Bodog Annuncia '12 Giorni di Poker'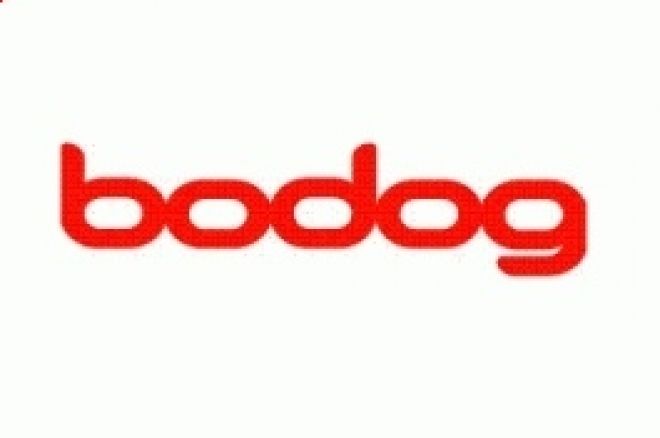 Bodog ha annunciato una promozione pensata per quei giocatori che possono disporre di un po' di tempo extra durante queste impegnative festività. Sotto il nome di "12 Days of Poker," Bodog organizza una serie di 45 eventi distribuiti su 12 giorni dal 21 dicembre al primo gennaio. Nel complesso, la stessa Bodog Poker aggiungerà oltre $100'000 in denaro bonus a questa serie.
La promozione "12 Days of Poker" prevede inoltre una classifica generale comune ed un Gran Finale con in palio l'occasione di vincere un pacchetto completo di buy-in per l'imminente Bodog Poker Open III - in programma per la primavera del 2009. I primi tre classificati nel Gran Finale vinceranno il pacchetto completo BPO3. I migliori quattro della classifica generale si qualificano automaticamente per la finale mentre coloro che si classificheranno dal 5° al 100° posto giocheranno uno speciale playoff che assegnerà altre 18 partecipazioni.
Il nome di molti eventi corrisponde alla quantità di denaro che Bodog aggiugerà al montepremi. Questo il programma completo del "12 Days of Poker" di Bodog:
Evento # Data/Ora • Torneo Buy-In
#1 12-21 / 2pm ET • 12 Days – $3K Added (Deep Stack) $100+9
#2 12-21 / 4pm ET • 12 Days – $20K Added $100+9
#3 12-21 / 4:30pm ET • 12 Days – $2K Added $10+1
#4 12-21 / 10:30pm ET • 12 Days – $1K Added $20+2
#5 12-22 / 3:30pm ET • 12 Days – $1K Added (Deep Stack) $40+4
#6 12-22 / 8:30pm ET • 12 Days – $2K Added (Deep Stack) $69+6
#7 12-23 / 2pm ET • 12 Days – $1K Added (Super Stack) $30+3
#8 12-23 / 8:30pm ET • 12 Days – $2K Added (Deep Stack) $150+12
#9 12-24 / 2pm ET • 12 Days – $1K Added (Super Stack) $30+3
#10 12-24 / 3:30pm ET • 12 Days – $1K Added (Deep Stack) $40+4
#11 12-24 / 6:40pm ET • 12 Days – $1K Added (rebuy) $12+1
#12 12-24 / 7:20pm ET • 12 Days – $2K Added $100+$9
#13 12-24 / 8:30pm ET • 12 Days – $2K Added (rebuy) $50+5
#14 12-24 / 10:30pm ET • 12 Days – $1K Added (turbo) $20+2
#15 12-25 / 1:20am ET • 12 Days – $1K Added (rebuy) $20+2
#16 12-25 / 2pm ET • 12 Days – $1K Added (Super Stack) $30+3
#17 12-25 / 3:30pm ET • 12 Days – $1K Added (Deep Stack) $40+4
#18 12-25 / 6:40pm ET • 12 Days – $1K Added (rebuy) $12+1
#19 12-25 / 7:20pm ET • 12 Days – $1K Added $69+6
#20 12-25 / 8:30pm ET • 12 Days – $3K Added (Deep Stack) $44+4
#21 12-25 / 10:30pm ET • 12 Days – $1K Added (turbo) $20+2
#22 12-26 / 1:20am ET • 12 Days – $1K Added (rebuy) $20+2
#23 12-26 / 8:30pm ET • 12 Days – $4K Added (Deep Stack) $100+9
#24 12-27 / 8:30pm ET • 12 Days – $3K Added (Deep Stack) $50+5
#25 12-27 / 10:20pm ET • 12 Days – $1K Added (rebuy) $30+3
#26 12-28 / 2pm ET • 12 Days – $3K Added (Deep Stack) $100+9
#27 12-28 / 4pm ET • 12 Days – $20K Added $100+9
#28 12-28 / 4:30pm ET • 12 Days – $2K Added $10+1
#29 12-29 / 3:30pm ET • 12 Days – $1K Added (Deep Stack) $40+4
#30 12-29 / 8:30pm ET • 12 Days – $2K Added (Deep Stack) $69+6
#31 12-30 / 2pm ET • 12 Days – $1K Added (Super Stack) $30+3
#32 12-30 / 8:30pm ET • 12 Days – $2K Added (Deep Stack) $150+12
#33 12-31 / 2pm ET • 12 Days – $1K Added (Super Stack) $30+3
#34 12-31 / 3:30pm ET • 12 Days – $1K Added (Deep Stack) $40+4
#35 12-31 / 6:40pm ET • 12 Days – $1K Added (rebuy) $12+1
#36 12-31 / 7:20pm ET • 12 Days – $2K Added $100+9
#37 12-31 / 8:30pm ET • 12 Days – $2K Added (rebuy) $50+5
#38 12-31 / 10:30pm ET • 12 Days – $1K Added $20+2
#39 1-1 / 1:20am ET • 12 Days – $1K Added (rebuy) $20+2
#40 1-1 / 2pm ET • 12 Days – $1K Added (Super Stack) $30+3
#41 1-1 / 3:30pm ET • 12 Days – $1K Added (Deep Stack) $40+4
#42 1-1 / 6:40pm ET • 12 Days – $1K Added (rebuy) $12+1
#43 1-1 / 7:20pm ET • 12 Days – $2K Added $69+6
#44 1-1 / 8:30pm ET • 12 Days – $3K Added (Deep Stack) $44+4
#45 1-1 / 10:30pm ET • 12 Days – $1K Added (turbo) $20+2
#46 1-8 / 9:05pm ET • 12 Days – Semifinale $0+0 (I migliori 18 vincono un posto in finale)
#47 1-15 / 9:05pm ET • 12 Days – Gran Finale $0+0 (I migliori 3 vincono un pacchetto BPO, i classificati dal quarto al nono vincono in T$270)
Ndr: I giocatori di PokerNews riceveranno un bonus sul primo deposito pari al 110% fino a $500 al primo deposito su Bodog Poker