WSOP 2021: Tutto Quello Che Devi Sapere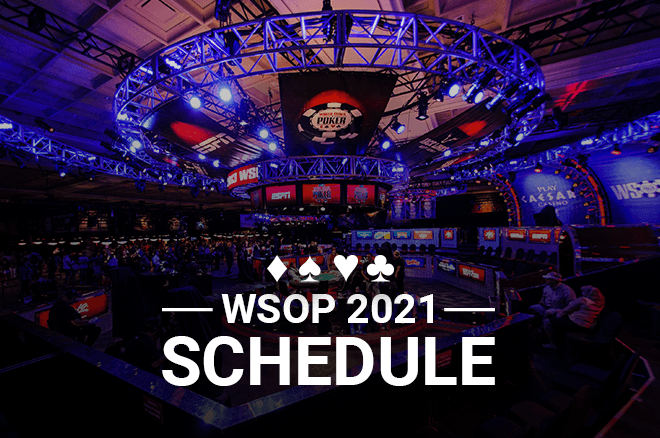 Come probabilmente già saprete, le World Series of Poker 2021 tornano al Rio All-Suite Hotel & Casino di Las Vegas, dopo un'assenza di ben 26 mesi. In questo articolo, scenderemo nel dettaglio del programma, evidenziando gli eventi più importanti e più attesi.
Le date delle WSOP 2021 sono state confermate: dal 30 settembre al 23 novembre. Il programma prevede ben 88 eventi con braccialetti, con buy-in che vanno da $400 a $250.000. Le registrazioni, online e dal vivo, aprono ad agosto, ma ecco qualche highlight:
Un torneo da $500 di buy-in, $5,000,000 GTD "The Reunion" nel weekend d'apertura
Un torneo da $25K Heads-Up Championship
Un torneo da $50K PLO
Un Super High Roller da $250,000 Super High Roller, l'evento non di beneficenza con il buy-in più grande nella storia delle WSOP
Uno speciale torneo Poker Hall of Fame Bounty
"Non c'è dubbio, le WSOP 2021 saranno il massimo e ci stiamo preparando per il tutto esaurito. Quest'anno sarà memorabile per le WSOP, stiamo preparando una reunion che tutti i giocatori di poker potranno celebrare", ha dichiarato Ty Stewart, WSOP Executive Director. "Siamo più che entusiasti di poter offrire uno schedule completo di eventi imperdibili, inclusi tutti i nostri cavalli di battaglia e tutta la varietà che i giocatori meritano".
"Non potremmo essere più eccitati di riaccogliere tutti a Las Vegas e al Rio", ha dichiarato Jack Effel, WSOP Vice President e Tournament Director. "Tutto il team WSOP sta lavorando duro per assicurare ai giocatori la miglior esperienza possibile".
Il Programma del WSOP Main Event 2021
Il Main Event da $10.000, che secondo alcuni sarà il più grande di sempre, avrà 4 starting flight: il Day 1A giovedì 4 novembre, il Day 1B venerdì 5, il Day 1C sabato 6 e il Day 1D domenica 7. Il torneo continuerà fino al tavolo finale di martedì 16 e mercoledì 17 novembre.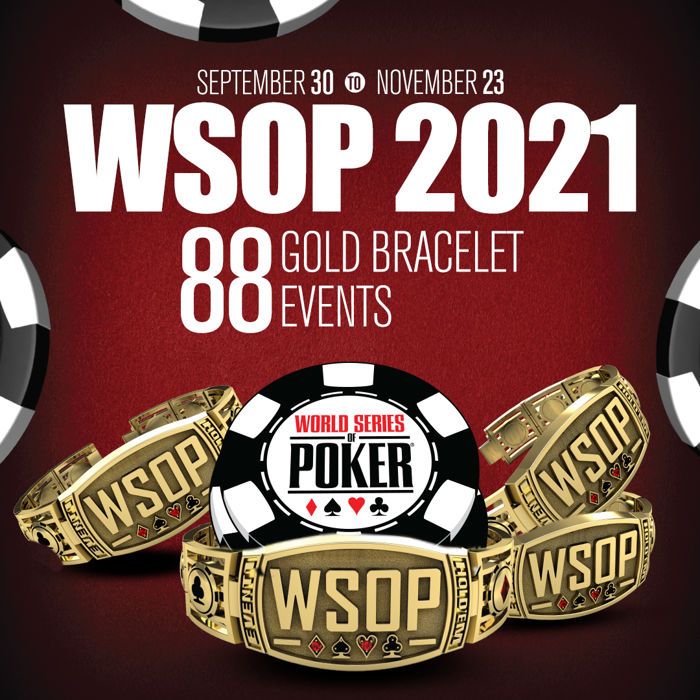 WSOP 2021, i nuovi eventi
Le WSOP 2021 propongono pezzi forti come The Millionaire Maker, Monster Stack, Double Stack, Colossus e The Closer, tutti programmati per vari venerdì e sabato autunnali, ma ci sono anche tanti nuovi tornei che stuzzicano i giocatori.
1 ottobre: $500 "The Reunion", $5,000,000 GTD – Per raggiungere il garantito, il weekend di apertura dovrà raccogliere 10.000 partecipanti. I giocatori possono scegliere tra 3 starting flight di venerdì, sabato e domenica (o giocarli tutti e tre).
5 ottobre: $25,000 Heads Up No-Limit Hold'em Championship – Il consueto championship WSOP di heads-up sale da $10K a $25K. Ci sarà un cap a 64 player.
10 ottobre: $1,000 Flip and Go – Il format online diventa live. Ciascun giocatore sarà all-in pre-flop nella prima mano, riceverà 3 carte e ne sceglierà 2. Un giocatore vincerà il tavolo e sarà immediatamente a premio, mentre il torneo si giocherà con una struttura tradizionale.
27-28 ottobre: $1,000 Seniors Doubles Up – Il sempre popolare Seniors No-Limit Hold'em Championship per la prima volta offrirà due starting day. Si può giocare con un re-entry per flight.
6, 13, 18, 21 e 24 ottobre: "Old School Freezeouts Return" – Il Main Event non è più l'unico freezout puro delle WSOP. Dal 6 ottobre, tutti i buy-in da $500 a $5,000 saranno veri freezeout.
31 ottobre: Deuce to Seven Single Draw NL Returns – Il Poker Players' Championship si espande a 9 giochi, con il ritorno del 2-7 Single Draw NL. Una versione da $2,500 di questo formato sarà disponibile il 28 ottobre.
17 novembre: Poker Hall of Fame Bounty – In omaggio alla the Poker Hall of Fame (PHOF), fondata nel 1979, i membri ancora in vita della Hall of Fame saranno invitati gratuitamente a un torneo di No-Limit Hold'em da $1,979 di buy-in, aperto a tutti i giocatori. Ogni partecipante avrà una taglia corrispondente all'anno in cui è stato introdotto nella Poker Hall of Fame. Con l'occasione, sarà svelato il nome del membro della PHOF 2021.
19 novembre: Nosebleed PLO – Il più alto torneo di PLO della storia delle WSOP ($50,000) è l'apice di una prestigiosa serie di High Roller programmati dopo il Main Event, che include anche torneo di No-Limit Hold'em da $50,000, $100,000 e $250,000.
Infine, gli appassionati di poker vedranno il ritorno dei tornei Daily Deepstack alle ore 13, 16, 19 e 22, quasi tutti i giorni nella Pavillion Room, che continuerà a ospitare satelliti e tavoli cash.

WSOP 2021, Copertura e Streaming
Le World Series of Poker 2021 hanno un nuovo partner televisivo, CBS Sports, che si assicurerà della copertura dell'evento. Saranno ben 18 gli eventi con braccialetto televisivi, con un minimo di 15 ore per il Main Event 2021, prodotte in esclusiva da Poker Central.
Programma WSOP 2021
Eccolo:
51 braccialetti di Hold'em e Short Deck.
13 braccialetti di Mixed Game, 8-Game e H.O.R.S.E.
13 braccialetti di Omaha, Omaha Hi-Lo e Pot-Limit Omaha Hi-Lo.
6 braccialetti di Stud, Seven Card Stud, Seven Card Stud Hi-Lo e Razz.
5 braccialetti di Draw, 2-7 Single Draw, 2-7 Triple Draw e Triple Draw Mix.
| Data | Giorno | Ora (PT) | Event # | Torneo | Buy-in | Chip di partenza | Durata livelli (minuti) | Entries | Late Reg |
| --- | --- | --- | --- | --- | --- | --- | --- | --- | --- |
| 30-Sep | Thurs. | 9am | - | Registration Opens, Live Action & Satellites Begin | - | - | - | - | |
| 30-Sep | Thurs. | 11am | 1 | Casino Employees No-Limit Hold'em (2 day event) | $500 | 25,000 | 40 | 1 | 9 levels |
| 30-Sep | Thurs. | 3pm | 2 | H.O.R.S.E. (3 day event) | $25,000 | 150,000 | 60 | 1 | Start of Day 2 |
| 30-Sep | Thurs. | 6pm | 3 | Covid-19 Relief NLH Charity Event (Benefiting frontline health workers) (2 day event) | $1,000 | 20,000 | 20 | unlimited | 12 levels |
| 1-Oct | Fri. | 10am | 4A | The Reunion NLH - $5,000,000 GTD | $500 | 50,000 | 30/40 | 1/flight | 10 levels |
| 1-Oct | Fri. | 3pm | 5 | Omaha Hi-Lo 8 or Better (3 day event) | $1,500 | 25,000 | 40/60 | 0 | 9 levels |
| 2-Oct | Sat. | 10am | 4B | The Reunion NLH - $5,000,000 GTD | $500 | 50,000 | 30/40 | 1/flight | 10 levels |
| 2-Oct | Sat. | 3pm | 6 | High Roller No-Limit Hold'em 8-Handed (3 day event) | $25,000 | 150,000 | 60 | 1 | Start of Day 2 |
| 3-Oct | Sun. | 10am | 4C | The Reunion NLH - $5,000,000 GTD | $500 | 50,000 | 30/40 | 1/flight | 10 levels |
| 3-Oct | Sun. | 3pm | 7 | Dealers Choice 6-Handed (3 day event) | $1,500 | 25,000 | 40/60 | 1 | 9 levels |
| 4-Oct | Mon | 11am | 8 | No-Limit Hold'em Deepstack (2 day event) | $600 | 30,000 | 30 | 1 | 12 levels |
| 4-Oct | Mon | 3pm | 9 | Omaha Hi-Lo 8 or Better Championship (4 day event) | $10,000 | 60,000 | 60/90 | 0 | Start of Day 2 |
| 5-Oct | Tue | 11am | 10 | Super Turbo Bounty No-Limit Hold'em (freezeout) (every player is a $300 bounty) (1 day event) | $1,000 | 20,000 | 20 | 0 | 12 levels |
| 5-Oct | Tue | 2pm | 11 | Heads Up No-Limit Hold'em Championship - (64 player max) (3 day event) | $25,000 | 150,000 | 20 | 0 | First Draw |
| 5-Oct | Tue | 3pm | 12 | Limit Hold'em (3 day event) | $1,500 | 25,000 | 40/60 | 0 | 9 levels |
| 6-Oct | Wed | 11am | 13 | Freezeout No-Limit Hold'em (3 day event) | $3,000 | 40,000 | 40/60 | 0 | 12 levels |
| 6-Oct | Wed | 3pm | 14 | Seven Card Stud (3 day event) | $1,500 | 25,000 | 40/60 | 0 | 9 levels |
| 7-Oct | Thu | 11am | 15 | 6-Handed No-Limit Hold'em (3 day event) | $1,500 | 25,000 | 40/60 | 1 | 9 levels |
| 7-Oct | Thu | 3pm | 16 | Limit Hold'em Championship (3 day event) | $10,000 | 60,000 | 60/90 | 0 | Start of Day 2 |
| 8-Oct | Fri | 11am | 17A | MILLIONAIRE MAKER NLH Flight A - $1,000,000 Guaranteed for 1st Place (5 day event) | $1,500 | 25,000 | 60 | 1/flight | 8 levels |
| 8-Oct | Fri | 3pm | 18 | Mixed Triple Draw Lowball (Limit) (A-5, 2-7, Badugi) (3 day event) | $2,500 | 35,000 | 60 | 1 | 8 levels |
| 9-Oct | Sat | 11am | 17B | MILLIONAIRE MAKER NLH Flight B | $1,500 | 25,000 | 60 | 1/flight | 8 levels |
| 9-Oct | Sat | 3pm | 19 | Seven Card Stud Championship (3 day event) | $10,000 | 60,000 | 60/90 | 0 | Start of Day 2 |
| 10-Oct | Sun | 10am | 20 | FLIP & GO NLH- Flight A (2 day event) | $1,000 | 20,000 | 30 | 1 | 12 levels |
| 10-Oct | Sun | 3pm | 21 | Mixed: Pot-Limit Omaha Hi-Lo 8 or Better; Omaha Hi Lo 8 or Better; "Big O" (5 Card PLO Hi-Lo 8) (3 day event) | $1,500 | 25,000 | 40/60 | 1 | 9 levels |
| 10-Oct | Sun | 4pm | 20 | FLIP & GO No-Limit Hold'em - Flight B | $1,000 | 20,000 | 30 | 1 | 12 levels |
| 11-Oct | Mon | 11am | 22 | LADIES No-Limit Hold'em Championship (3 day event) (Event Entry is $10K; Ladies Discounted Price is $1K) | $10,000/$1,000 | 20,000 | 60 | 1 | 8 levels |
| 11-Oct | Mon | 3pm | 23 | Eight Game Mix 6-Handed (3 day event) | $1,500 | 25,000 | 40/60 | 1 | 9 levels |
| 12-Oct | Tue | 11am | 24 | Pot-Limit Omaha Deepstack (8-Handed) (2 day event) | $600 | 30,000 | 30 | 1 | 12 levels |
| 12-Oct | Tue | 3pm | 25 | 6-Handed No-Limit Hold'em (3 day event) | $5,000 | 50,000 | 60 | 1 | Start of Day 2 |
| 13-Oct | Wed | 11am | 26 | Freezeout No-Limit Holdem (2 day event) | $1,000 | 20,000 | 30 | 0 | 8 levels |
| 13-Oct | Wed | 3pm | 27 | H.O.R.S.E. (3 day event) | $1,500 | 25,000 | 40/60 | 0 | 9 levels |
| 14-Oct | Thu | 11am | 28 | Pot-Limit Omaha 8-Handed (3 day event) | $1,000 | 20,000 | 40/60 | 1 | 9 levels |
| 14-Oct | Thu | 3pm | 29 | Short Deck No-Limit Hold'em (3 day event) | $10,000 | 60,000 | 60 | 1 | Start of Day 2 |
| 15-Oct | Fri | 11am | 30A | MONSTER STACK NLH (freezeout) Flight A (5 day event) | $1,500 | 50,000 | 60 | 0 | 10 levels |
| 15-Oct | Fri | 3pm | 31 | No-Limit 2-7 Lowball Draw (3 day event) | $1,500 | 25,000 | 60 | 1 | 8 levels |
| 16-Oct | Sat | 11am | 30B | MONSTER STACK NLH Flight B | $1,500 | 50,000 | 60 | 0 | 10 levels |
| 16-Oct | Sat | 3pm | 32 | H.O.R.S.E. (3 day event) | $3,000 | 40,000 | 60 | 0 | 8 levels |
| 17-Oct | Sun | 11am | 33 | 8-Handed No-Limit Hold'em Deepstack (2 day event) | $800 | 40,000 | 30 | 1 | 12 levels |
| 17-Oct | Sun | 3pm | 34 | Limit 2-7 Lowball Triple Draw (3 day event) | $1,500 | 25,000 | 40/60 | 1 | 9 levels |
| 18-Oct | Mon | 11am | 35 | Freezeout No-Limit Holdem (2 day event) | $500 | 25,000 | 30 | 0 | 12 levels |
| 18-Oct | Mon | 3pm | 36 | Dealers Choice 6-Handed Championship (3 day event) | $10,000 | 60,000 | 60/90 | 0 | Start of Day 2 |
| 19-Oct | Tue | 11am | 37 | Super Turbo Bounty NLH (freezeout) (every player is a $500 bounty) (1 day event) | $1,500 | 25,000 | 20 | 0 | 12 levels |
| 19-Oct | Tue | 3pm | 38 | High Roller NLH 8-Handed (3 day event) | $50,000 | 300,000 | 60 | 1 | 8 levels |
| 20-Oct | Wed | 11am | 39 | Pot-Limit Omaha (8-Handed) (3 day event) | $1,500 | 25,000 | 40/60 | 1 | 9 levels |
| 20-Oct | Wed | 3pm | 40 | H.O.R.S.E. Championship (4 day event) | $10,000 | 60,000 | 60/90 | 0 | Start of Day 2 |
| 21-Oct | Thu | 11am | 41 | Freezeout No-Limit Hold'em (3 day event) | $2,500 | 35,000 | 40/60 | 0 | 12 levels |
| 21-Oct | Thu | 3pm | 42 | Razz (3 day event) | $1,500 | 25,000 | 40/60 | 0 | 9 levels |
| 22-Oct | Fri | 11am | 43A | DOUBLE STACK NLH Flight A (5 day event) | $1,000 | 40,000 | 60 | 1 / flight | 8 levels |
| 22-Oct | Fri | 3pm | 44 | 6-Handed Limit Hold'em (3 day event) | $3,000 | 40,000 | 60 | 0 | 8 levels |
| 23-Oct | Sat | 11am | 43B | DOUBLE STACK NLH Flight B | $1,000 | 40,000 | 60 | 1 / flight | 8 levels |
| 23-Oct | Sat | 3pm | 45 | Pot-Limit Omaha 8-Handed Championship (4 day event) | $10,000 | 60,000 | 60 | 0 | Start of Day 2 |
| 24-Oct | Sun | 11am | 46 | No-Limit Hold'em Deepstack (2 day event) | $800 | 40,000 | 30 | 1 | 12 levels |
| 24-Oct | Sun | 3pm | 47 | Freezeout No-Limit Hold'em 8-Handed (3 day event) | $5,000 | 50,000 | 40 | 0 | 12 levels |
| 25-Oct | Mon | 11am | 48 | SHOOTOUT No-Limit Hold'em (2,000 player max) (3 day event) | $1,500 | 25,000 | 40 | 0 | 3 levels or sell out |
| 25-Oct | Mon | 3pm | 49 | No-Limit 2-7 Lowball Draw Championship (3 day event) | $10,000 | 60,000 | 60/90 | 1 | Start of Day 2 |
| 26-Oct | Tue | 11am | 50 | Mixed No-Limit Hold'em/Pot-Limit Omaha Deepstack 8-Handed (2 day event) | $600 | 30,000 | 30 | 1 | 12 levels |
| 26-Oct | Tue | 3pm | 51 | 6-Handed No-Limit Hold'em (2 day event) | $3,000 | 40,000 | 30 | 1 | 12 levels |
| 27-Oct | Wed | 11am | 52A | SENIORS Championship (Must be 50 years of age or older) Flight A (5 day event) | $1,000 | 20,000 | 60 | 1 | 8 levels |
| 27-Oct | Wed | 3pm | 53 | High Roller Pot-Limit Omaha (8-Handed) (4 day Event) | $25,000 | 150,000 | 60 | 1 | 12 levels |
| 28-Oct | Thu | 10am | 52B | SENIORS Championship Flight B | $1,000 | 20,000 | 60 | 1 | 8 levels |
| 28-Oct | Thu | 3pm | 54 | Nine Game Mix 6-Handed (3 day event) | $2,500 | 35,000 | 60 | 1 | 8 levels |
| 29-Oct | Fri | 10am | 55A | COLOSSUS NLH Flight A (Payouts each flight) (4 day event) | $400 | 40,000 | 40 | 1 / flight | 12 levels |
| 29-Oct | Fri | 3pm | 56 | 6-Handed No-Limit Hold'em Championship (3 day event) | $10,000 | 60,000 | 60 | 0 | Start of Day 2 |
| 30-Oct | Sat | 10am | 55B | COLOSSUS NLH Flight B (Payouts each flight) | $400 | 40,000 | 40 | 1 / flight | 12 levels |
| 30-Oct | Sat | 3pm | 57 | Limit 2-7 Lowball Triple Draw Championship (3 day event) | $10,000 | 60,000 | 60 | 0 | Start of Day 2 |
| 31-Oct | Sun | 10am | 58 | SUPER SENIORS NLH (Must be 60 years of age or older) (3 day event) | $1,000 | 20,000 | 60 | 1 | 8 levels |
| 31-Oct | Sun | 2pm | 59 | TAG TEAM NLH (2 person team, each team must register together) (3 day event) | $1,000/Team | 20,000 | 60 | 0 | 8 levels |
| 31-Oct | Sun | 3pm | 60 | Poker Players Championship 6-Handed (5 day event) | $50,000 | 300,000 | 100 | 0 | 8 levels |
| 1-Nov | Mon | 11am | 61 | Deepstack Championship No-Limit Hold'em (3 day event) | $600 | 30,000 | 40/60 | 1 | 9 levels |
| 1-Nov | Mon | 3pm | 62 | Pot-Limit Omaha Hi-Lo 8 or Better (8-Handed) (3 day event) | $1,500 | 25,000 | 40/60 | 1 | 9 levels |
| 2-Nov | Tue | 11am | 63 | SALUTE to Warriors NLH (3 day event) Proceeds to be donated to the USO and other Veteran Organizations | $500 | 25,000 | 40 | 1 | 9 levels |
| 2-Nov | Tue | 3pm | 64 | Mixed No-Limit Hold'em; Pot-Limit Omaha (8-Handed) (2 day event) | $5,000 | 50,000 | 30 | 1 | 12 levels |
| 3-Nov | Wed | - | - | Satellite Days November 3 -8 | - | - | - | - | - |
| 3-Nov | Wed | 11am | 65 | MINI Main Event NLH (freezeout) (2 day event) | $1,000 | 60,000 | 30 | 0 | 12 levels |
| 3-Nov | Wed | 3pm | 66 | Pot-Limit Omaha Hi-Lo 8 or Better Championship (8-Handed) (3 day event) | $10,000 | 60,000 | 60 | 0 | Start of Day 2 |
| 4-Nov | Thu | 11am | 67A | MAIN EVENT World Championship - Day 1A | $10,000 | 60,000 | 120 | 0 | 7 levels |
| 5-Nov | Fri | 11am | 67B | MAIN EVENT World Championship - Day 1B | $10,000 | 60,000 | 120 | 0 | 7 levels |
| 6-Nov | Sat | 11am | 67C | MAIN EVENT World Championship - Day 1C | $10,000 | 60,000 | 120 | 0 | 7 levels |
| 7-Nov | Sun | 11am | 67D | MAIN EVENT World Championship - Day 1D | $10,000 | 60,000 | 120 | 0 | 8 levels |
| 8-Nov | Mon | 11am | 67 | MAIN EVENT - Day 2AB (combine all surviving players 1A + 1B) | - | - | 120 | - | - |
| 8-Nov | Mon | 12pm | 68A | LITTLE ONE FOR ONE DROP Flight A (5 day event) | $1,000 + $111 | 40,000 | 60 | unlimited | 12 levels |
| 9-Nov | Tue | 11am | 67 | MAIN EVENT - Day 2CD (For all surviving 1C + 1D players) | - | - | 120 | - | - |
| 9-Nov | Tue | 3pm | 68B | LITTLE ONE FOR ONE DROP Flight B | $1,000 + $111 | 40,000 | 60 | unlimited | 12 levels |
| 10-Nov | Wed | 11am | 67 | MAIN EVENT - Day 3 (combine all fields into one for first time) | - | - | 120 | - | - |
| 10-Nov | Wed | 12pm | 68C | LITTLE ONE FOR ONE DROP Flight C | $1,000 + $111 | 40,000 | 60 | unlimited | 12 levels |
| 10-Nov | Wed | 3pm | 69 | Seven Card Stud Hi-Lo 8 or Better (3 day event) | $1,500 | 25,000 | 40/60 | 0 | 9 levels |
| 11-Nov | Thu | 11am | 67 | MAIN EVENT - Day 4 | - | - | 120 | - | - |
| 11-Nov | Thu | 12pm | 70A | CRAZY EIGHTS 8-Handed Flight A - $888,888 Guaranteed 1st Place (6 day event) (Payouts every flight) | $888 | 40,000 | 30/40 | 1 / flight | 12 levels |
| 11-Nov | Thu | 3pm | 71 | BOUNTY Pot-Limit Omaha 8-Handed (every player is a $500 bounty) (3 day event) | $1,500 | 25,000 | 40/60 | 1 | 9 levels |
| 12-Nov | Fri | 11am | 67 | MAIN EVENT - Day 5 | - | - | 120 | - | - |
| 12-Nov | Fri | 12pm | 70B | CRAZY EIGHTS 8-Handed Flight B - $888,888 Guaranteed 1st Place (Payouts every flight) | $888 | 40,000 | 30/40 | 1 / flight | 12 levels |
| 12-Nov | Fri | 3pm | 72 | Mixed No-Limit Hold'em; Pot-Limit Omaha (8-Handed) (3 day event) | $1,500 | 25,000 | 40/60 | 1 | 9 levels |
| 13-Nov | Sat | 11am | 67 | MAIN EVENT - Day 6 | - | - | 120 | - | - |
| 13-Nov | Sat | 12pm | 70C | CRAZY EIGHTS 8-Handed Flight C - $888,888 Guaranteed 1st Place (Payouts every flight) | $888 | 40,000 | 30/40 | 1 / flight | 12 levels |
| 13-Nov | Sat | 3pm | 73 | Seven Card Stud Hi-Lo 8 or Better Championship (3 day event) | $10,000 | 60,000 | 60/90 | 0 | Start of Day 2 |
| 14-Nov | Sun | 11am | 67 | MAIN EVENT - Plays down to 9 players | - | - | 120 | - | - |
| 14-Nov | Sun | 12pm | 70D | CRAZY EIGHTS 8-Handed Flight D - $888,888 Guaranteed 1st Place (Payouts every flight) | $888 | 40,000 | 30/40 | 1 / flight | 12 levels |
| 14-Nov | Sun | 3pm | 74 | Mixed Big Bet Event (3 day event) | $2,500 | 35,000 | 60 | 1 | 8 levels |
| 15-Nov | Mon | 11am | 75 | Freezeout No-Limit Holdem (3 day event) | $1,500 | 25,000 | 40/60 | 0 | 12 levels |
| 15-Nov | Mon | 3pm | 76 | Super Turbo Bounty No-Limit Hold'em (freezeout) (every player is a $3,000 bounty) (2 day event) | $10,000 | 60,000 | 20 | 0 | 12 levels |
| 16-Nov | Tue | 11am | 77 | FIFTY STACK No-Limit Hold'em (2 day event) | $1,500 | 50,000 | 30 | 1 | 12 levels |
| 16-Nov | Tue | 3pm | 78 | Razz Championship (3 day event) | $10,000 | 60,000 | 60/90 | 0 | Start of Day 2 |
| 16-Nov | Tue | TBD | 67 | MAIN EVENT - Final Table | - | - | 120 | - | - |
| 17-Nov | Wed | 11am | 79 | Poker Hall of Fame Bounty NLH (freezeout) (every Hall of Famer is a bounty) (2 day event) | $1,979 | 30,000 | 40 | 0 | 9 levels |
| 17-Nov | Wed | 3pm | 80 | 6-Handed Pot-Limit Omaha (4 day event) | $3,000 | 40,000 | 60 | 1 | 8 levels |
| 17-Nov | Wed | TBD | 67 | MAIN EVENT - Final Table | - | - | 120 | - | - |
| 18-Nov | Thu | 11am | 81 | No-Limit Hold'em Deepstack (2 day event) | $800 | 40,000 | 30 | 1 | 12 levels |
| 18-Nov | Thu | 3pm | 82 | Super High Roller No-Limit Hold'em (3 day event) | $250,000 | 500,000 | 60 | 1 | Start of day 2 |
| 19-Nov | Fri | 11am | 83A | The Closer - No-Limit Hold'em Flight A (payouts each flight) (3 day event) | $1,500 | 25,000 | 30 | 1 / flight | 12 levels |
| 19-Nov | Fri | 3pm | 84 | HIGH ROLLER Pot-Limit Omaha (2 day event) | $50,000 | 300,000 | 40 | 1 | 12 levels |
| 20-Nov | Sat | 11am | 83B | The Closer - No-Limit Hold'em Flight B (payouts each flight) | $1,500 | 25,000 | 30 | 1 / flight | 12 levels |
| 20-Nov | Sat | 3pm | 85 | HIGH ROLLER No-Limit Hold'em (2 day event) | $50,000 | 300,000 | 40 | 1 | Start of Day 2 |
| 21-Nov | Sun | 12pm | 86 | Super Turbo No-Limit Hold'em (1 day event) | $1,000 | 20,000 | 20 | 1 | 12 levels |
| 21-Nov | Sun | 3pm | 87 | High Roller No-Limit Hold'em (3 day event) | $100,000 | 600,000 | 40 | 1 | 12 levels |
| 22-Nov | Mon | 12pm | 88 | 8-Handed No-Limit Hold'em (2 day event) | $5,000 | 50,000 | 30 | 1 | 12 levels |