WSOP 2022: ufficiale il calendario con 88 eventi a Las Vegas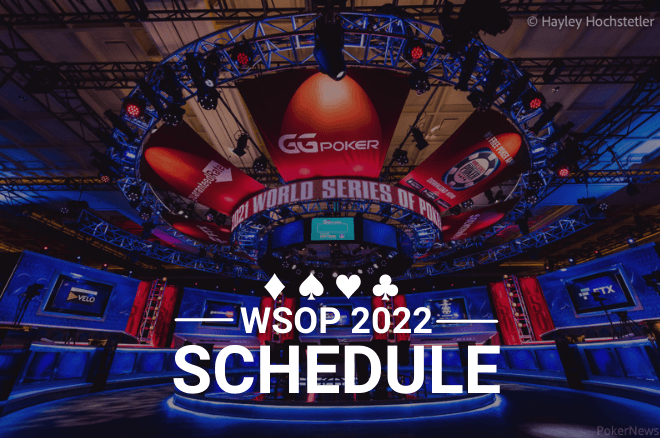 La 53° edizione delle World Series ha appena visto la luce.
Le WSOP 2022 hanno finalmente il loro calendario, con 88 eventi che animeranno l'azione del poker live dal 30 maggio al 19 luglio. Una manifestazione che torna nella sua cornice ideale dell'anno, ovvero a cavallo fra primavera ed estate, dopo aver abbracciato l'autunno nell'edizione 2021, a causa della pandemia.
Per la prima volta si giocherà nel cuore di Las Vegas, vale a dire sulla strip, con ben due casinò che uniscono le forze: da una parte il Bally's e dall'altra il Paris che uniranno le loro sale congressi, per la più grande poker room di sempre nella storia delle WSOP. Previsti oltre 600 tavoli per i vari tornei.
Come sempre, la ciliegina sulla torta resta il$10.000 main event che decolla il 3 luglio e si chiuderà il 14 per l'incoronazione del neo campione del mondo. Vediamo cosa ci attende per 50 giorni a Sin City, con le WSOP 2022.
Un avvio stellare
Partenza con il botto alle WSOP 2022. Come sempre il Kick Off è affidato al $500 Casino Employees No-Limit Hold'em che scatta alle 11.00 del mattino di Vegas del 31 maggio: evento#1 riservato ai soli dipendenti dei casinò. Poche ore dopo invece la posta in palio si fa durissima con il $100.000 Bounty High Roller. L'evento#2 è spalmato su 3 giorni, con 25.000 dollari per ogni singola taglia.
Il secondo giorno di WSOP 2022 non è da meno. Ecco infatti, il $2,500 Freezeout No-Limit Hold'em che ci riporta all'antico: nessun re-entry, ma una volta terminate le chips il player è fuori dai giochi. L'evento#4 invece ci consegna un $1,500 Dealers Choice 6-Handed con ben 18 giochi giochi a disposizione.
Il terzo giorno è quello che punta ad ogni record. Il 2 giugno è la volta del nuovissimo $500 The Housewarming NLH che mette in palio 5 milioni di dollari garantiti, con 4 round di qualificazione. L'evento#6 è per i palati fini: ecco il $25,000 Heads-Up NLH Championship (64-Player Max). Il campionato del mondo di testa a testa che nel 2014 vide il trionfo di Davide Suriano per i nostri colori.
Nella partenza folgorante delle WSOP 2022 non mancano certo le varianti. L'evento#7 è un $1,500 Omaha Hi-Lo 8 or Better, l'evento#9 un $1,500 Seven Card Stud e infine, l'evento#10 un super $10,000 Dealers Choice 6-Handed Championship.
Abbiamo visto un torneo esclusivo nel buyin alla prima giornata e anche nei seguenti giorni la musica non cambia. Il 4 giugno carte in aria con il $25,000 High Roller No-Limit Hold'em 8-Handed (evento#8) e il 6 giugno spazio al $50,000 High Roller No-Limit Hold'em 8-Handed (evento#12). E questo solo per la prima settimana. Nello schedule che troverete in fondo all'articolo, c'è solo l'imbarazzo della scelta con gli 88 eventi delle WSOP 2022.
Le novità
Le WSOP 2022 apportano alcuni nuovi tornei, rispetto all'ultima edizione giocata e cerchiamo di capire quali sono quelle più importanti che vedremo a Las Vegas tra maggio e luglio.
I Weekend sono da urlo alle World Series. Ogni venerdì e sabato delle WSOP 2022 si terrà uno degli eventi No-Limit Hold'em di punta delle WSOP. The Millionaire Maker, Monster Stack, Colossus e The Closer tornano tutti con montepremi multimilionari e un valore significativo.
Attenzione poi al $1.000 Buy-In Million Dollar Bounty. Annunciato originariamente per le WSOP 2020 e caratterizzato da una ricompensa misteriosa fino a $ 1 milione e "pescata" a sorte dai giocatori, questo evento inizia come un torneo regolare con coloro che si qualificano al day 2 e incassano la taglia dei giocatori che eliminano. Ma il valore stesso della taglia verrà scoperto solo dal day 2 in poi e fino appunto ad un milione di dollari. Inizia l'1 luglio e si chiude il 4.
Il torneo dei campioni che vale 1 milione di dollari. E' l'evento#89, anche se non segnato in calendario con alcun numero. Non ha buyin, ma è accessibile solo a coloro che hanno vinto i precedenti 88 eventi, con 1 milione di dollari in palio. Una novità che in realtà è tuffo nel passato, visto che questo evento (seppur senza 1 milione nel prize pool) si giocava fino a qualche anno fa. Non solo, ma ai campioni WSOP 2022, si uniscono i giocatori che hanno vinto almeno un ring nelle WSOPC 2021-22. Insomma un mix di campioni a chiusura della kermesse: dal 18 al 19 luglio, con eventuale extra day al 20 luglio.
Buyin calibrati, non troppo low e nemmeno high. Ecco gli eventi mid-stakes. Variano il costo di iscrizione tra $2.000 e $5.000, con numerosi eventi per questo target. Le date sono molteplici, con giugno che vede i seguenti giorni: 1-8-15-23-30. Luglio invece comprende 11-13-16.
Tra il 10 e il 12 luglio l'azione alle WSOP 2022 si fa ancora più rovente, con il $777 Lucky Seven's. Il Buy-In è di $777 con un primo premio garantito di 777.777 bigliettoni.
Cosa hanno in comune la Poker Hall of Fame e la taglia da 1.979 dollari? Il fatto che la stessa Hall of Fame delle WSOP è nata proprio nel 1979. E allora i membri viventi della Hall of Fame saranno invitati a fare un freeroll nel torneo No-Limit Hold'em da $ 1.979 aperto a tutti i giocatori. Ogni giocatore partecipante riceverà una taglia corrispondente all'anno in cui è stato inserito nel club più esclusivo del poker e verrà annunciato il candidato PHOF 2022.
Il main event
Come sempre tutti gli occhi sono puntati sul$10.000 main event alle World Series of Poker. Non può essere da meno l'edizione 2022, con lo start previsto il 3 luglio. Quattro i flight di qualificazione al doppio day 2 e viene così confermata la formula allargata del 2021, con una sorta di ritorno al passato. Il tavolo finale inizia il 15 luglio, con un giorno di pausa fra il day 7 e lo start appunto dell'atto finale. Il 16 luglio conosceremo il neo campione del mondo.
PokerGo contribuirà alla diretta streaming di 18 tavoli finali, ma tutto il resto degli eventi saranno sotto l'occhio delle telecamere di CBS Sports.
Vi lasciamo con il programma completo delle WSOP 2022.
Lo Schedule Ufficiale
| Event # | Dates | Buy-In | Tournament |
| --- | --- | --- | --- |
| 1 | May 31-June 1 | $500 | Casino Employees No-Limit Hold'em |
| 2 | May 31-June 2 | $100,000 | High Roller Bounty NLH ($25k Bounties) |
| 3 | June 1-4 | $2,500 | Freezeout No-Limit Hold'em |
| 4 | June 1-4 | $1,500 | Dealers Choice 6-Handed |
| 5 | June 2-7 | $500 | The Housewarming NLH ($5m Gtd) |
| 6 | June 2-4 | $25,000 | Heads-Up NLH Championship (64-Player Max) |
| 7 | June 3-5 | $1,500 | Omaha Hi-Lo 8 or Better |
| 8 | June 4-6 | $25,000 | High Roller No-Limit Hold'em 8-Handed |
| 9 | June 4-6 | $1,500 | Seven Card Stud |
| 10 | June 5-7 | $10,000 | Dealers Choice 6-Handed Championship |
| 11 | June 6-7 | $600 | No-Limit Hold'em Deepstack |
| 12 | June 6-8 | $50,000 | High Roller No-Limit Hold'em 8-Handed |
| 13 | June 6-8 | $1,500 | Limit Hold'em |
| 14 | June 7-9 | $1,500 | 6-Handed No-Limit Hold'em |
| 15 | June 7-10 | $10,000 | Omaha Hi-Lo 8 or Better Championship |
| 16 | June 8-11 | $3,000 | No-Limit Hold'em 6-Handed |
| 17 | June 8-10 | $2,500 | Limit Mixed Triple Draw Lowball (A-5,2-7,Badugi) |
| 18 | June 9-10 | $1,000 | Freezeout No-Limit Hold'em |
| 19 | June 9-12 | $25,000 | High Roller Pot-Limit Omaha |
| 20 | June 9-11 | $1,500 | Limit 2-7 Lowball Triple Draw |
| 21 | June 10-14 | $1,500 | Monster Stack No-Limit Hold'em |
| 22 | June 10-12 | $10,000 | Seven Card Stud Championship |
| 23 | June 11-13 | $3,000 | 6-Handed Limit Hold'em |
| 24 | June 12-13 | $1,000 | GGPoker Flip & Go No-Limit Hold'em |
| 25 | June 12-13 | $800 | No-Limit Hold'em Deepstack |
| 26 | June 12-14 | $10,000 | Limit Hold'em Championship |
| 27 | June 13-15 | $1,500 | Shootout No-Limit Hold'em |
| 28 | June 13-15 | $50,000 | High Roller Pot-Limit Omaha |
| 29 | June 13-14 | $1,500 | No-Limit 2-7 Lowball Draw |
| 30 | June 14-16 | $1,000 | Pot-Limit Omaha 8-Handed |
| 31 | June 14-16 | $10,000 | Limit 2-7 Lowball Triple Draw Championship |
| 32 | June 15-17 | $1,500 | H.O.R.S.E. |
| 33 | June 15-16 | $3,000 | 6-Handed No-Limit Hold'em |
| 34 | June 16-18 | $1,500 | Freezeout No-Limit Hold'em |
| 35 | June 16-18 | $2,500 | Mixed Big Bet Event |
| 36 | June 16-18 | $1,500 | Seven Card Stud Hi-Lo |
| 37 | June 17-21 | $1,500 | Millionaire Maker No-Limit Hold'em |
| 38 | June 17-19 | $10,000 | No-Limit 2-7 Lowball Draw Championship |
| 39 | June 18-21 | $3,000 | 6-Handed Pot-Limit Omaha |
| 40 | June 18-20 | $10,000 | Seven Card Stud Hi-Lo Championship |
| 41 | June 19 | $1,000 | Super Turbo Bounty NLH ($300 Bounties) |
| 42 | June 19-21 | $100,000 | High Roller No-Limit Hold'em |
| 43 | June 20-21 | $500 | Freezeout No-Limit Hold'em |
| 44 | June 20-23 | $10,000 | H.O.R.S.E. Championship |
| 45 | June 21-23 | $1,500 | Pot-Limit Omaha |
| 46 | June 21-24 | $5,000 | 6-Handed No-Limit Hold'em |
| 47 | June 22-26 | $1,000 | Seniors No-Limit Hold'em (50+) |
| 48 | June 22-24 | $1,500 | Eight-Game Mix 6-Handed |
| 49 | June 23-25 | $2,000 | No-Limit Hold'em |
| 50 | June 23-25 | $250,000 | Super High Roller No-Limit Hold'em |
| 51 | June 24-27 | $400 | Colossus No-Limit Hold'em* |
| 52 | June 24-26 | $2,500 | Nine-Game Mix 6-Handed |
| 53 | June 25-26 | $5,000 | Mixed NLH/PLO |
| 54 | June 26-28 | $500 | Salute to Warriors USO Charity NLH |
| 55 | June 26-27 | $1,000/Team | Tag Team No-Limit Hold'em |
| 56 | June 26-30 | $50,000 | Poker Players Championship |
| 57 | June 27-30 | $600 | Deepstack Championship No-Limit Hold'em |
| 58 | June 27-29 | $1,500 | Pot-Limit Omaha Hi-Lo 8 or Better |
| 59 | June 28-July 1 | $1,000 | Super Seniors No-Limit Hold'em (60+) |
| 60 | June 28-30 | $10,000 | Short Deck No-Limit Hold'em |
| 61 | June 29-July 2 | $1,000 | Ladies No-Limit Hold'em Championship |
| 62 | June 29 | $1,500 | Super Turbo Bounty No-Limit Hold'em ($500 Bounties) |
| 63 | June 29-July 2 | $10,000 | Pot-Limit Omaha Hi-Lo Championship |
| 64 | June 30-July 1 | $600 | Pot-Limit Omaha Deepstack |
| 65 | June 30-July 2 | $3,000 | Freezeout No-Limit Hold'em |
| 66 | July 1-3 | $1,000 | Mini Main Event |
| 67 | July 1-2 | $10,000 | Super Turbo Bounty No-Limit Hold'em ($3k Bounties) |
| 68 | July 2-5 | $1,000 | Million Dollar Bounty NLH (Top Bounty is $1 Million) |
| 69 | July 2-5 | $10,000 | Pot-Limit Omaha 8-Handed Championship |
| 70 | July 3-16 | $10,000 | Main Event |
| 71 | July 7-11 | $1,111 | One More for One Drop No-Limit Hold'em |
| 72 | July 7-9 | $1,500 | Mixed PLO Hi-Lo/"Big O"/Omaha Hi-Lo |
| 73 | July 8-10 | $1,500 | Razz |
| 74 | July 9-11 | $1,500 | Bounty Pot-Limit Omaha 8-Handed ($500 Bounties) |
| 75 | July 10-14 | $777 | Lucky 7's NLH 7-Handed ($777,777 Gtd 1st Place) |
| 76 | July 10-11 | $1,979 | Poker Hall of Fame Bounty NLH (HOF'ers are Bounties) |
| 77 | July 11-13 | $1,500 | Mixed No-Limit Hold'em/Pot-Limit Omaha |
| 78 | July 11-13 | $2,500 | No-Limit Hold'em |
| 79 | July 12-14 | $10,000 | Razz Championship |
| 80 | July 13-14 | $600 | Mixed Pot-Limit Omaha/No-Limit Hold'em Deepstack |
| 81 | July 13-15 | $5,000 | Freezeout No-Limit Hold'em 8-Handed |
| 82 | July 14-15 | $800 | 8-Handed No-Limit Hold'em Deepstack |
| 83 | July 14-16 | $50,000 | High Roller No-Limit Hold'em |
| 84 | July 14-16 | $3,000 | H.O.R.S.E. |
| 85 | July 15-17 | $1,500 | The Closer No-Limit Hold'em* |
| 86 | July 15-17 | $10,000 | 6-Handed No-Limit Hold'em Championship |
| 87 | July 16-17 | $5,000 | 8-Handed No-Limit Hold'em |
| 88 | July 17 | $1,000 | Super Turbo No-Limit Hold'em |
| | July 18-20 | Freeroll | Tournament of Champions (Invite-Only) |
2022 WSOP Schedule Highlights
May 1-June 1: Event #2, $100,000 No-Limit Hold'em Bounty ($25k bounties)
June 2-7: Event #5, $500 The Housewarming No-Limit Hold'em ($5 million guaranteed)
June 9-12: Event #19: $25,000 High Roller Pot-Limit Omaha
June 19-21: Event #42, $100,000 High Roller No-Limit Hold'em
June 24-27: Event #51, $400 Colossus No-Limit Hold'em
June 26-30: Event #56, $50,000 Poker Players Championship
June 30-July 2: Event #61, $1,000 Ladies No-Limit Hold'em Championship
July 3-16: Event #70, $10,000 Main Event
July 18-20: Tournament of Champions ($1 million guaranteed freeroll)