Main Event
Giorno 1b completo
Livello 5 : 200/400, 50 ante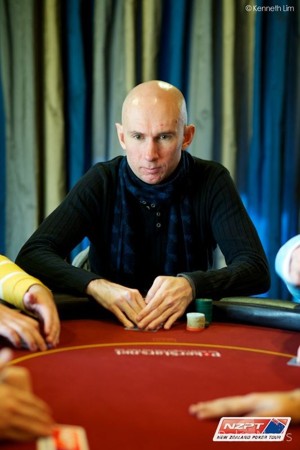 Sono 22 i giocatori che hanno appena chiuso le rispettive buste e sono usciti dal casinò, nella gelida notte di questa bella cittadina di montagna neo-zelandese. Il primo di tutti quest'oggi è Daniel Laidlaw, con 85.900 chips.
Il field oggi contava un'unità in meno rispetto a ieri, ovvero 39 partecipanti complessivi. Come detto, solo in 22 sono sopravvissuti, il che significa che ci sono state parecchie eliminazioni nell'arco dei cinque livelli disputati. Ricordiamo Michael Guzzardi, Ken Demlakian, Pravin Harji ed il detentore in carica del titolo "ANZ Player of the Year" Mishel Anunu.
Mentre i suddetti giocatori non sono riusciti a passare al Day 2, altri come Daniel Neilson, Casey Kastle, Michael Federsen e Dean Schneider sono sopravvissuti ed alcuni di loro hanno anche chiuso con parecchie chips all'attivo. Per un breve periodo si sono contesi la palma di chipleader Daniel Levy e Laidlaw, ma alla fine quest'ultimo è riuscito a staccare sia Levy che Luca Brabin, ottenendo un discreto vantaggio su entrambi.
Qui è' tutto per oggi da PokerNews.it, ma torneremo domani a partire dalle ore 02:30 ora italiana per il blog live del Day 1C del PokerStars ANZPT Main Event! Assicuratevi di risintonizzarvi sulle nostre frequenze!
Livello 5 : 200/400, 50 ante
Giocatore
Chip
Avanzamento

Daniel Laidlaw

85,900

900

Luke Brabin

68,675

8,675

Daniel Levy

55,125

-19,875

Daniel Neilson

51,850

7,850

Michael Fadersen

47,125

-875

Casey Kastle

44,500

14,500

Dean Schneider

39,325

-4,675

Kenny Frisby

38,275

Karl Radel

30,825

Jordan Westmorland

25,450

-3,550

Chris Holmes

25,200

Stelios Yenofician

24,875

Jacque Ramsden

24,850

Colin Carpenter

23,300

Madis Muur

22,100

Matty Yates

21,625

1,625

Glenn Maiden

16,600

Brian Horwitz

16,475

Jackson Zheng

11,750

-4,250

Asj Taylor

9,625

Jakub Kyrian

9,425

Ricky Kroesen

6,875

-15,125
Livello 5 : 200/400, 50 ante
Clock fermo e ultime quattro mani di giornata. La corsa per la chip lead è tra Laidlaw e Levy. A tra poco per gli ultimi aggiornamenti
Livello 5 : 200/400, 50 ante
Apre Daniel Neilson a 800 dal cutoff, Anunu pusha da bottone e Matty Yates repusha da small blind. Neilson passa
Anunu:

Yates:
Board
Giocatore
Chip
Avanzamento

Matty Yates

20,000

2,500

Mishel Anunu

Eliminato
Livello 5 : 200/400, 50 ante
Daniel Laidlaw conquista la chip lead: Harji va all in preflop con
contro
di Laidlaw e board
. Laidlaw a 85.000
Livello 5 : 200/400, 50 ante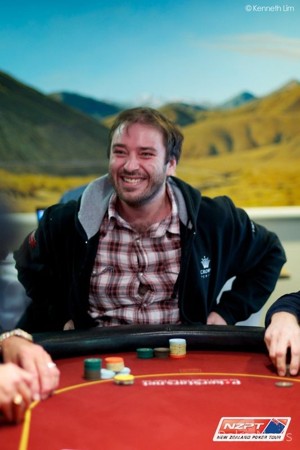 Luke Brabin, Mishel Anunu e Michael Guzzardi generano un pot da 4.000 e arriviamo su flop
. Anunu checka, Guzzardi betta 1.700 e Brabin rilancia a 4.600. Anunu folda e Guzzardi pusha per 10.000. Call di Brabin
Guzzardi:

Brabin:
Turn
River
Livello 5 : 200/400, 50 ante
Si giocano gli ultimi 60 minuti di oggi!
Livello: 5
Bui: 200/400
Ante: 50
Livello 4 : 150/300, 25 ante
Torniamo tra 10 minuti!