Main Event
Giorno 1b completo
Livello 10 : 500/1,000, 100 ante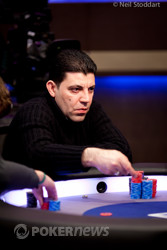 502 hanno preso parte a questo day 1b dell'EPT Berlino ed a fine giornata chiude in testa al chipcount Cengiz Ulusu che imbusta il monster stack di 242,800 chips. Il turco, residente in Germania, partirà domani come chipleader della classifica generale, avendo superato Geshkenbein che aveva chiuso il day 1a poco sopra 200,000 chips.
Ancora in corsa molti giocatori importanti, come ad esempio Kevin MacPhee che chiude a 139,100. Davidi Kitai che fa ancora meglio ed imbusta 197,700. E poi ancora Calvin Anderson (205,100), Mario Puccini (198,900), Marc Wright (182,600), Dan Smith (173,600), Michiel Brummelhuis (173,500) e Konstantinos Tsirakidis (168,000).
Team PokerStars Pro sottotono invece in questa giornata di gioco. Victor Ramdin ad esempio, dopo essere salito fino a 122,000, non riesce ad amministrare il proprio stack ed esce poco dopo la pausa cena. Pius Heinz invece esce in una mano sfortunata dove con una coppia di donne incappa in due avversari con coppia di kappa e coppia d'assi. Incredibilmente la coppia di kappa diventa un poker di kappa grazie al board ed Heinz saluta.
Escono anche tanti altri Team pro della picca rossa come Veldhuis, Duhamel, Katchalov, De Melo, Horecki, Naujoks, Akkari e Mattern.
Torneranno domani invece Bertrand "ElkY" Grospellier (40,900), Viktor "Isildur1" Blom (109,900), George Danzer (54,100), Alex Kravchenko (49,000), Nuno Coelho (8,500), Matthias De Meulder (14,500) e la friend of PokersStars Charlotte Van Brabander (37,300).
Per gli italiani, molto bene Fernando Cimaglia che imbusta ben 103,800 chips. Ancora dentro anche Alfonso Amendola (55,000) e Filippo Bianchini (23,400). Non ce la fanno invece i romani Gianluca Marcucci e Stefano Puccilli che non riescono ad approdare al day 2.
I 329 giocatori ancora in gara ritorneranno domani alle 12.00 e Pokernews sarà lì per farvi vivere tutte le emozioni di questo EPT.
A domani!
Giocatore
Chip
Avanzamento

Cengiz Ulusu

242,800

Calvin Anderson

205,100

Mario Puccini

198,900

Davidi Kitai

197,700

Team Pro

Joao Ribeiro

196,600

César García

184,400

Marc Wright

182,600

Brahim Oubella

176,700

56,700

Daniel Smith

173,600

Michiel Brummelhuis

173,500

Konstantinos Tsirakidis

168,100

Jake Cody

149,700

17,700

Andrey Zaichenko

148,700

Andreas Vlachos

139,400

-2,600

Kevin MacPhee

139,100

57,100

Peter Jepsen

136,700

31,700

Salman Behbehani

131,900

28,500

Senal Egziabher

128,800

Tim Bettingen

128,100

Ismael Bojang

127,300

Thomas Dolezal

126,300

Simon Ravnsbaek

125,100

Peter Turmezey

124,600

Yorane Kerignard

122,400

Ramon Demon Cserei

122,200
Terminano i giochi per oggi. Il tabellone segna 220 ancora in gioco ma il numero non è ancora ufficiale.
Ecco intanto uno sguardo ai big stack di giornata.
Tim Gerdes finisce ai resti con
contro
di Fredrik Andersson.
Board
Giocatore
Chip
Avanzamento

Tim Gerdes

Eliminato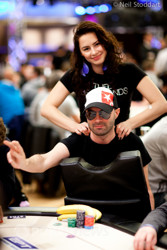 Ecco una lista dei giocatori eliminati negli ultimi due livelli.
Giocatore
Chip
Avanzamento

Nicolas Chouity

Eliminato

Peter Akery

Eliminato

Michael Alf

Eliminato

Jozef Hancin Hentz

Eliminato

Hannu Peltola

Eliminato

Christian Buse

Eliminato

Antoine Nahas

Eliminato

Thorsten Bäuerle

Eliminato

Pius Heinz

Eliminato

Pierre Fehner

Eliminato

Juha Helppi

Eliminato

Liutauras Armanavicius 

Eliminato

Andreas Wiese 

Eliminato

Hendrik Dürschlag

Eliminato

Martin Mulsow

Eliminato

Adam Hui

Eliminato

Toni Judet

Eliminato

Fabian Deimann

Eliminato

Robertas Vaitkevicius

Eliminato

John Gale

Eliminato

[Removed:28]

Eliminato

Yevgeniyy Timoshenko

Eliminato

Rolf Eibel

Eliminato

Richard Bruning

Eliminato

Marcin Jerzy Grzybowksi

Eliminato
Livello: 10
Bui: 500/1,000
Ante: 100
Livello 9 : 400/800, 100 ante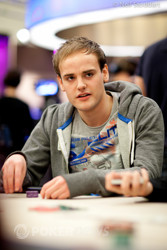 Il Team PokerStars Pro Pius Heinz apre a 1,600, Ali Azabdaftar 3betta a 4,000, Bahadir Kilickeser chiama, Heinz shova per 21,000 totali, Azabdaftar repusha per 70,000 e Kilickeser chiama per 51,000!
Azabdafter gira
, Kilickeser ha
mentre Heinz "solo"
.
Board
Kilickeser chiude addirittura quads e sale a circa 130,000, Azabdafter rimane con 20,000 ed Heinz è out!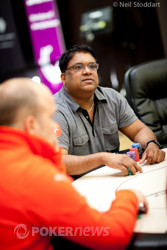 Victor Ramdin si affida a Twitter per spiegare la sua eliminazione:
"It all started with him 4 betting me I flop top set jj on a j 10 2 flop 3 on turn and yes a hor K in the river to give HIM the nuts str"
Followed by: "Got in my last 30k with my qq only to run into kk # ontothenextone"
Poi è il turno di Eugene Katchalov sempre tramite Twitter: "Ran my KK into AA into one of the only 2 people on the table who could bust me. I'm out. #EptBerlin."
Fatima Moreira de Melo invece ha pushato coppia di otto trovando il call di un oppo con coppia di dieci.
Anche Christophe De Meulder è out anche se non si conoscono i dettagli dell'eliminazione.