Main Event
Giorno 4 completo
Livello 28 : 40,000/80,000, 10,000 ante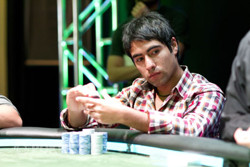 Si conclude così la prima tappa del PokerStars Latin American Poker Tour Season V, ospitata a Vina del Mar (Cile). Aliro Diaz, giocatore cileno, si aggiudica la prima piazza per una prima moneta pari a $ 76.580.
Questo è il payout finale:
2012 LAPT Chile Final Table Payouts

| Place | Player | Country | Original Prize | Amount Per Deal |
| --- | --- | --- | --- | --- |
| 1st | Aliro Diaz | Chile | $129,470 | $76,580 |
| 2nd | Leonardo | Chile | $84,090 | $66,000 |
| 3rd | Jaoa Lopes | Brazil | $58,010 | $58,000 |
| 4th | Felipe Velasquez | Chile | $43,540 | $74,000 |
| 5th | Javier Venegas | Argentina | $32,460 | $50,000 |
| 6th | Sergio Escobar | Colombia | $23,990 | $47,000 |
| 7th | Halysson Sala | Brazil | $17,470 | N/A |
| 8th | Nicholas Batt | Colombia via United States | $13,040 | N/A |
Grazie a tutti coloro che ci hanno seguito, il prossimo appuntamento con il blog live di PokerNews Italia è per domani alle 14:00 con il Day1a dell'EPT di Campione!
Programma tappe LAPT Season V
| Destination | Main Event Date | Buy-In |
| --- | --- | --- |
| Punta del Este, Uruguay Mantra Resort, Spa and Casino | May 24–27, 2012 | USD$2,300 +200 |
| Medellín, Colombia, Casino Allegre | Aug. 8–12, 2012 | COL$ 3,820,000 +380,000 (≈USD$2,300) |
| Lima, Peru Casino Atlantic | Nov. 29 – Dec. 2, 2012 | USD$2,500 +200 |
| LAPT Grand Final | TBC | TBC |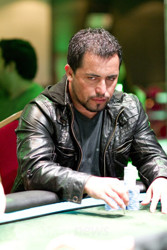 Il dealer probabilmente aveva fretta, ma già alla settima mano dell'hu si conclude questo final table.
Aliro Diaz apre rilanciando di 185.000 per poi chiamare la tribet di Leonardo Olivares a 500.000. Il flop recita
: Olivares ci pensa un po' prima di annunciare l'all-in per circa 2.5 milioni. Diaz ci pensa intensamente, e poi decide di chiamare.
Diaz:

Olivares:
Olivares ha bisogno di un A o di una Q, che non arriva al turn
e neanche al river
. Aliro Diaz vince in questo modo l'appuntamento cileno con il LAPT 2012 mentre Olivares si congratula e incassa il secondo posto che vale $66.000.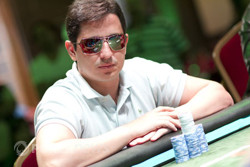 Joao Lopes apre a 300.000 dal bottone e Leonardo Olivares folda dallo small blind. Aliro Diaz, invece, tribetta all-in coprendo Lopes. Call inevitabile di quest'ultimo per circa 1.3 million.
Showdown
Lopes:

Diaz:
Niente 3 dal board
e Lopes chiude il torneo al terzo posto. Si va all'heads up finale...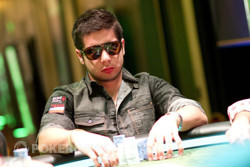 Guerra di bui tra giocatori cileni: Felipe Velasquez va all-in dallo small per 1.4 million con Aliro Diaz che snap-calla from the big. Velasquez gira
, dominato dal
di Diaz, soprattutto dopo che il flop
regala a quest'ultimo il set. Velasquez ha comunque scala a incastro con il tre, che però non arriva né al turn né al river. Velasquez player out al 4° posto per una moneta pari a $74.000.
Leonardo Olivares opre a 200.000 sul bottone. Call di Felipe Velasquez sullo small blind.
Scende il flop
e tutti e due i giocatori optano per il check. Al turn
Velasquez betta 245.000, Olivares chiama, per vedere un
al river. Velasquez ancora in puntata per 300.000, ma Olivares non si schioda. Si va allo showdown: Velasquez gira
,asso high, Olivares sta un miglio avanti avendo settato con
.
Aliro Diaz rilancia a 185.000 da cutoff, ma Joao Lopes tribetta in all-in per 725.000. L'azione torna a Diaz che fa il call:
Showdown
Diaz:

Lopes:
Il board è bianco
il che regale a Lopes un agognato double up.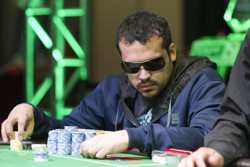 Javier Venegas di bottone open raisa all-in per 710.000. Leonardo Olivares ci pensa poco prima di chiamare. Venegas, in steal, gira
, ma non totalmente dominato quando Olivares mostra
.
Il flop
manda alle stelle l'entusiasmo di Venegas e dei suoi supporter; festa che però dura poco quando arriva la doccia fredda di un
al turn. Il river
non salva Venegas ed è il tifo di Olivares ad esultare a questo punto.
Livello: 28
Bui: 40,000/80,000
Ante: 10,000