Event 5: Tony G Celebrity Shootout w/ Bounties
Event Info
| | |
| --- | --- |
| Buy-in | 500 AUD |
| Montepremi | 108,500 AUD |
| Players | 240 |
| Giocatori Rimasti | 240 |
Informazioni livello
| | |
| --- | --- |
| Livello | 20 |
| Bui | 20,000 / 40,000 |
| Ante | 0 |
Event 5: Tony G Celebrity Shootout w/ Bounties
Giorno 2 completo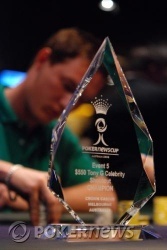 Dopo due giorni di poker intrattenimento 239 giocatori sono usciti e Kenneth Damm è l'uomo a rimanere in piedi.

Kenneth è emerso dall'azione di ieri come uno dei chip leader giungendo al tavolo finale di oggi. Il più giovane è stato in grado di superare l'esperienza di Vito Montalto e Sam Khouiss in una fiera battaglia heads up per catturare la taglia finale del torneo. Ha aggiunto questi $500 al primo premio di $26,583, e naturalmente all'ambito trofeo.

Questo è tutto per Event #5 of the PokerNews Cup Championships ma rimanete collegati su PokerNews.com, il $550 6-Handed No Limit Holdem event continua e si avvia a un'eccitante conclusione!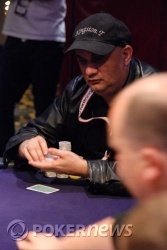 Kenneth Damm apre dal button e Sam Khouiss vede da big blind.
Damm:
Khouiss:
Il board è
e Kenneth Damm prende il piatto, la taglia e il trofeo!
Sam Khouiss finisce un terrificante torneo al 2° posto prendendo $18,988 per i suoi sforzi.
Kenneth Damm completa da small blind e Sam Khouiss checked da big blind.
Il flop è
e Khouiss vede la puntata di 40,000 chip di Damm. Il turn è
entrambi checked.
Il river è
e Khouiss punta 40,000 visti da Damm. Khouiss mostra
per top pair ma Damm fa al river two pair con i suoi
estendendo il suo vantaggio.
Livello:

20
Bui:

20,000/40,000
Ante:

0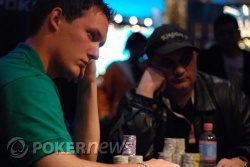 Sam Khouiss rilancia di 60,000 dal button e Kenneth Damm vede da big blind.
Il flop è
entrambi i giocatori checked. Il turn è
e Damm checked a Khouiss che punta 30,000. Damm vede.
Il river è
e questa volta Damm prende il comando e punta 60,000. Khouiss pensa a lungo prima di passare.
Sam Khouiss apre con un rilancio di 70,000 dal button prima che Kenneth Damm muova all in! Khouiss si mette a pensare prima di passare con
.
Damm mostra
!
Kenneth Damm rilancia di 80,000 dal button e Sam Khouiss difende il suo big blind.
Vanno al flop di
dove entrambi checked. Il turn è un altro spade con
mettendo una quarta carta flush al board. Khouiss punta 50,000 e Damm vede.
Il river è
entrambi rallentano e checked.
Damm con
prende il piatto e Khouiss mucked.
Damm ora siede con 700,000 con 500,000 chip di vantaggio su Khouiss.
In un altro piatto limped, i due giocatori vedono un flop di
dove Sam Khouiss check-called la puntata di 30,000 chip di Kenneth Damm.
Il turn
e river
sono checked e Damm mostra
per un mancato flush draw con pair, e Khouiss raccoglie il piatto con
per two pair.
Sam Khouiss completa da small blind ancora una volta prima che Kenneth Damm rilanci di 90,000. Khouiss vede e vanno al flop di
. Khouiss checked a Damm che muove all in. Khouiss passa e Damm raccoglie il piatto.