Main Event
Giorno 3 completo
Livello 22 : 8,000/16,000, 2,000 ante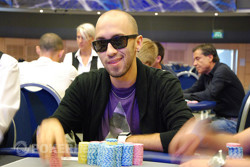 The World Poker Tour Malta Main Event has reached its final table after the 26 players who started Day 3 were whittled down to just six. The man who will lead the final tablists into battle at 13:00 CET on Thursday is Jackson Genovesi.
Genovesi has lead this tournament from start to finish and it would be no surprise at all of the vocal Italian went all the way and won the €120,000 first place prize. Day 3 was a real roller coaster of a ride for Genovesi, his willingness to play pots and see flops out of position almost cost him dearly but whenever he entered a pot you could guarantee he was making his opponent's lives a misery.
Genovesi ended the night with 1,553,000 million chip and was just one of two players who broke through the one million chip barrier; the other being France's Yorande Kerignard and his 1,422,000 chips. Kerignard is a very talented poker player and from listening to the railbirds today and watching him play his cool, calm and collected style he will go into the final table as the overall favorite.
Joining Genovesi and Kerignard are Finland's Sampo Ryynanen, former WPT Venice champion Alessio Isaia, Croatia's Zeljko Krizan and the first woman to reach a WPT final table in what seems like an age, Hui Chen Kuo.
Play resumes at 13:00 CET and PokerNews will be there to bring you all of the action from the Casino at Portomaso. Make sure you join us as we crown our Malta champion.
| Seat | Name | Chips |
| --- | --- | --- |
| 1 | Hui Chen Kuo | 524,000 |
| 2 | Alessio Isaia | 535,000 |
| 3 | Jackson Genovesi | 1,553,000 |
| 4 | Sampo Ryynanen | 962,000 |
| 5 | Zeljko Krizan | 174,000 |
| 6 | Yorane Kerignard | 1,422,000 |
Giocatore
Chip
Avanzamento

Jackson Genovesi

1,553,000

253,000

Yorane Kerignard

1,422,000

643,000

Sampo Ryynanen

962,000

479,000

Alessio Isaia

535,000

110,000

Hui Chen Kuo

524,000

-301,000

Zeljko Krizan

174,000

-252,000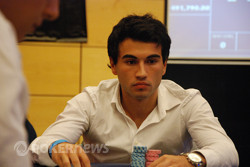 Serkan Kurnaz has been eliminated and we have our final table!
Kurnaz opened to 32,000 and then called off his remaining 216,000 when Yorande Kerignard put him all in.
Kurnaz :

Kerignard:
Board :
Kurnaz, a high stakes heads-up cash specialist, finishes in seventh place and the WPT Malta Main Event has reached its final table. Recap to follow.
Livello 22 : 8,000/16,000, 2,000 ante
On a
flop Sampo Ryynanen check-called a 34,000 bet from Yorande Kerignard. The
on the turn saw similar action, a check-call of an increased 48,000 bet, then the
river saw Ryynanen check, Kerignard bet 119,000 and Ryynanen instantly call.
Ryynanen showed
and that beat the
of his opponent.
Livello: 22
Bui: 8,000/16,000
Ante: 2,000
Livello 21 : 6,000/12,000, 2,000 ante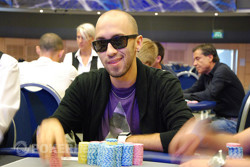 Jackson Genovesi is in full swing right now and he is picking up pots left, right and center. He just picked up another 200,000 or so chips.
Yorande Kerignard opened to 25,000 from under the gun and he picked up two callers. First Surken Kurnaz called in the hijack and Genovesi called on the button. The trio saw the flop come down
, Kerignard bet 47,000 and both opponents called.
The
caused all three players to check and it looked like that was going to happen again when the
appeared on the river but when the action checked to Genovesi he bet 155,000. Kerignard quickly got out of the way but Kurnaz said, "so sick" before replaying the hand over in his head.
"You wouldn't look at your cards again if you had the flush," said Kurnaz in a quizzical manner commenting on how Genovesi took another peek at his hole cards before making the 155,000 bet. Kurnaz, try as he might, could not find a call and Genovesi adds more chips to his stack.
Livello 21 : 6,000/12,000, 2,000 ante
Hui Chen Kuo was first to act in the hijack and she set the price to play at 25,000. The action passed around to Jackson Genovesi in the big blind and he three-bet to 62,000.
Kuo reached for chips and Genovesi commented on how she was going for it but our last woman standing decided against continuing with the hand and folded.
Kuo asked Genovesi to show and he said, "now we are down to seven I suppose I can show," and show he did, the lowly
.
From the conversation that took place afterwards Kuo claimed to have folded pocket sevens.
Livello 21 : 6,000/12,000, 2,000 ante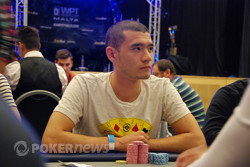 We are down to seven players in the WPT Malta main event after Jack Salter was eliminated by Finland's Sampo Ryynanen.
Ryynanen was in the cutoff and when the action folded around to him, he raised to 20,000. Salter then moved all in from the big blind and Ryynanen instantly called. The reason for his quick call became apparent when he showed
and Salter could only muster
. The board ran out
and with that Salter was no more.