Event 30 - $2,500 No Limit Holdem 6 Handed
Giorno 2 completo
Sono sei i giocatori che siederanno al tavolo finale dell' Event #30 $2,500 NL Hold'em Six-handed. Hoyt Corkins è il chip leader con oltre 1.3M.

Posti e Chip Count:
Seat 1: Terrence Chan - 502,000
Seat 2: Alan Sass - 1,217,000
Seat 3: William Lin - 726,000
Seat 4: James Pittman - 127,000
Seat 5: Kelly Vander-Mheen - 307,000
Seat 6: Hoyt Corkins - 1,300,000

La partita avrà inizio alle 2 PM PDT (23 ora italiana).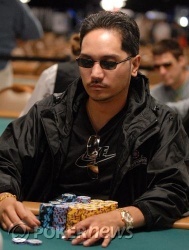 Hoyt Corkins rilancia dal bottone per 32K. Steve Wong va all in per 572K. Un folto pubblico si stringe intorno al tavolo mentre Hoyt Corkins si prende una pausa di riflessione. Alla fine decide di vedere.
Wong:
Corkins:
Al flop esce
. Il turn porta
e Corkins pesca un colore. Wong non può nulla neanche col
sceso al river. Wong chiude qui il suo cammino e Corkins porta il suo stack a 1.3M
Gli ultimi sette rimasti vengono fatti sedere ad un unico tavolo. Ancora un eliminato e si avrà il tavolo finale.

Seat 1: Steve Wong
Seat 2: Terrence Chan
Seat 3: Allen Sass
Seat 4: WIlliam Lin
Seat 5: James Pittman
Seat 6: Kelly Vander-Mheen
Seat 7: Hoyt Corkins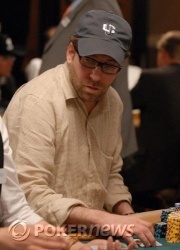 Hoyt Corkins rilancia dal bottone per 36K. Yakov Hirsch va all in da SB per 230K. Corkins conta le sue chip prima di vedere.
Hirsch:
Corkins:
Al flop scende
. Corkins chiede al mazziere una Q per chiudere la scala. Al turn scende
e poi arriva...
. Corkins trova il Broadway straight. Yakov Hirsch se ne va nono.
Al Tavolo #73 si gioca in quattro mentre il Tavolo #74 ha cinque giocatori.

Tavolo #73
Seat 1: William Lin
Seat 2: Hoyt Corkins
Seat 3: Yakov Hirsch
Seat 4: Steve Wong

Tavolo #74
Seat 1: James Pittman
Seat 2: Russell Barnes
Seat 3: Alan Sass
Seat 4: Terrence Chan
Seat 5: Kelly Vander-Mheen
Rasmus Carstensen va all in con
. Viene visto da Yakov Hirsch con
.
Al flop esce
.
Turn
River
.
Rasmus Carstensen finicise qui il suo percorso, 10°.
Livello:

16
Bui:

6,000/12,000
Ante:

1,000
Steve Wong rilancia 33K e Jesper Petersen va all in. Wong vede.
Wong:
Peterson:
Flop
.
Turn
River
.
Wong si aggiudica la mano e Petersen chiude all'11° posto.
With ten players remaining, Wong has taken over the chiplead. He's close to 800K.