Garrett Goes Out on a Limb
Livello 4 : 75-150, 0 ante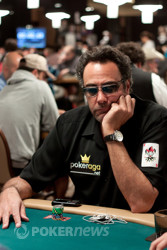 Everybody Loves Raymond star Brad Garrett is down to 9,300 in chips, but that unmistakable voice is still ringing out as bright as ever as he continues his quest for his first WSOP gold bracelet.
The action folded to Mitch Branch who raised to 425 from the button before the flop; Garrett called and then both players checked the flop of
and the turn of the
, before Garrett led out for 500 on the river of the
. Mitch, who was only playing about 1,500 behind, reluctantly called and turned up
for two pair. Garrett mucked.
"Good call! I just wanted to see where you were at," Garrett bellowed. "What were you afraid of?"
"Going broke," Branch replied meekly.
On the last break, our very own Kristy Arnett called the clock on Garrett, which you can check out in the video below.
We can tell you that that there is one other player who has gone broke - Jason Mercier was one of the late entrants into today's event after busting in seventh place from the 2-7 Draw Lowball final table. According to our sources, it wasn't even five minutes before he walked back out the door.