Chasing Eric Buchman
Livello 8 : 500-1,000, 0 ante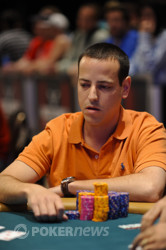 If not for the endless string of split pots, this $10,000 Omaha Hi-Lo Championship might be our very favorite event of the year to cover. Nowadays, only the big-buyin events feature intimate, highly skilled fields from top to near-bottom like this one.
Today's field was a strong one with 202 players -- nearly all of them faces you'd be familiar with -- turning up to the Rio with the buyin burning a hole in their pockets. Many of them torched through stacks in the early event in order to give this evening show their full attention. Like Tom Dwan, for example, who busted the $1,500 No-Limit Hold'em event just a few minutes before registration closed for this Championship. Dwan had a short and productive four levels over here on our side of the room, working his 30,000-chip stack to 61,000 by night's end.
Also in the mix were the likes of John Racener, Will Failla, Justin Smith, Ted Forrest, and Michael Mizrachi, but they were all cursed with a very short day and run out of the room within the first few levels. Also falling by the wayside was Francesco Barbero, one of the still-growing 2011 class of bracelet winners. Barbaro could easily justify the investment after taking down this event's little brother, the $1,500 Omaha Hi-Lo event of a few days ago. He had a miserable day, though, and his last big bet went into his final pot during the closing level of the night.
Barbaro wasn't the only 2011 bracelet winner in the room, either. Allen Bari won Event #4 yesterday, and Eugene Katchalov took down Event #5, too; both men survived the day with chips to spare. Bari, in particular, had a good day, finishing up with 70,700 tucked safely inside his chip bag for the overnight soak.
Joining those survivors in tomorrow's Day 2 will be a significant crowd of familiar faces. Erik Seidel, Dwan, John Juanda, Mike Matusow, Daniel Negreanu, Todd Brunson, Barry Greenstein and a pair of Deebs (Shaun and Freddy) will headline the restart at 3:00 P.M. on Tuesday. That's today, if you're scoring at home. A few of those guys have chips with which to do some damage, too. Negreanu was one of the last to register, but he managed to stack up 51,800 by the time the clock wound down, and Freddy Deeb is very near the top with 82,800 chips.
From the looks of it, though, everyone's chasing Eric Buchman right now. He had a quiet day as far as table talk went, electing instead to let his chips do the talking. Buchman had a taller stack every time we walked past his table, and his finishing count of 105,500 will set the pace for Day 2.
We'll be back here tomorrow afternoon to pick up the action and play down as close to a final table as we can muster. Thanks for joining us; we'll see you in about 13 hours!