Eight Become Four After Day 3
Livello 7 : 12,000/24,000, 0 ante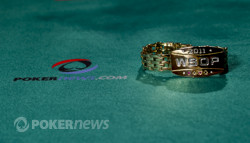 After one round of play today, the $25k Heads-Up World Championship whittled its field from eight to four players in relatively short order.
The first player to advance to the semifinal round was Yevgeniy Timoshenko, who dispatched David Paredes with a combination of strong holdings and excellent reads. The Ukrainian's cool demeanor and steady play helped him overcome an early chip disadvantage and Timoshenko rebounded to earn the win.
Eric "E-Fro" Froehlich was the next competitor to move on, after he emerged victorious from one of the day's more entertaining contests. Both Froehlich and Nikolay Evdakov showed no hesitation in pushing their 1.2-million chip stacks around the table, and after a series of massive pots and repeated double-ups it was Froehlich who stamped his ticket to the Final Four.
On the feature table, the action was slightly more subdued as Jake Cody and Anthony Guetti slowly tried to wear one another down. Eventually, it took a cooler to decide the match as both players found pocket pairs and pushed their chips into the middle. Cody's tens held up over Guetti's sevens and the British phenom who has dominated European fields for the last few years is now poised to make a splash in his first American WSOP.
In the match that most of the railbirds came to see, Gus Hansen used a methodical and calculating game to defeat Matt Marafioti. While his opponent required 1.2 million chips in the double add-on format, Hansen needed only one bullet to move closer to an impressive follow-up to his 1st place finish in the £10,000 buy-in WSOP-E Heads-up Championship held in 2010.
Tomorrow's semifinal round pits Gus Hansen against Jake Cody and Eric Froehlich against Yevgeniy Timoshenko, with the winners facing off in a best of three heads-up duel.
Check in with PokerNews.com tomorrow at either 1:55 P.M. or 3:00 P.M. (we've heard both from two different people) for the latest updates on the semifinal and final rounds.
(We're still waiting for the official word on the restart time; we'll try to update that info as soon as it's given to us.)