Event #37: $10,000 H.O.R.S.E. Championship
Giorno 3 completo
Official Heads-Up Chip Counts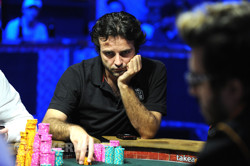 "This is the stupidest rule ever!" rang out one of the railbirds here at the final table of Event #37: $10,000 H.O.R.S.E. Championship. What the person is referring to is the ten-level rule, which has caused this event to come to a halt with just two players remaining for the World Series of Poker gold bracelet. Those two players are Shawn Buchanan and Fabrice Soulier.
Buchanan holds just 910,000 in chips and is very, very short to Soulier's 6.29 million. When the players come back tomorrow, Buchanan will have just about 3.8 big bets left in his stack. Due to him being so short, the entire French rail backing Soulier began booing loudly when the tournament director announced that play would be ending for the night.
The two players will return tomorrow at 3:00 PM PDT to finish things out. It could be over in ten minutes with the amount of chips Buchanan has or it could last another hour or two if he happens to find a double or two early on. You can be sure to follow all of the action right here on PokerNews tomorrow. Until then, goodnight from the Rio.
Hold'em
Shawn Buchanan checked his option in the big blind after Fabrice Soulier limped in from the button. The flop came down
and both players checked to see the
fall on the turn. Buchanan got all in for 230,000 with Soulier. Buchanan held the
against Soulier's
.
Soulier was one card away from the victory, but the
on the river gave Buchanan the winning hand and doubled him up.
Hold'em
Shawn Buchanan called on the button and Fabrice Soulier raised from the big blind. Soulier made the call. The flop came down
and Soulier bet. Buchanan folded and Soulier showed the
for ten high.
Hold'em
From the button, Fabrice Soulier raised and Shawn Buchanan called. The flop came down
and all it took was a bet from Buchanan for this hand to be over with.
Stud-8
Fabrice Soulier: (X)(X) /
/ (X)
Shawn Buchanan: (X)(X) /
/ (X)
PIcking up the action on fifth street, Shawn Buchanan check-called a bet from Fabrice Soulier before calling another bet on sixth street after Soulier led. On seventh, Soulier bet and Buchanan released his hand.
Stud-8
Shawn Buchanan was all in on third street for 490,000 after he and Fabrice Soulier raised back and forth numerous times. Buchanan held
and Soulier
. Buchanan went on to make trip jacks on fifth and then fill up on sixth street to win the hand.