Event #6: $1,500 Limit Hold'em
Giorni 2
Event #6: $1,500 Limit Hold'em
Giorno 2 completo
Livello 20 : 8,000/16,000, 0 ante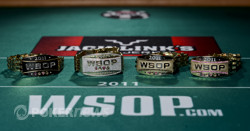 The second day of the sixth event of the 42nd Annual World Series of Poker has officially come to a close! Out of the 130 players who started out today, only 15 will return tomorrow to battle it out for the bracelet and everything that comes with it - the fame, the fortune and, according to the wisdom of one of our cab drivers, "the ecstacy of winnin', yes indeed!"
Naturally, all eyes will be on Matt Matros, as the Long Islander is well on his way to defending his title, bagging up 153,000. However, he's going to have some work to do if he's to catch Bill Davis, who's on top of the pops with 416,000, followed by Tim Chauser (371,000), Sean Nguyen (327,000), Scott Clements (259,000) and Thomas Jamieson (221,000).
The bust-outs were thick and fast right from the word go, with many big names falling by the wayside, including Jennifer Harman, Barry Shulman, Liz Lieu, Chino Rheem, Tom Schneider and Archie Karas, who was unfortunate enough to share the dubious honor of being the "bubble boy" with Jerrod Ankenman, who started Day 2 as the overall chipleader.
There were also plenty others that fell by the wayside, but they did pick up some cash for their trouble, including names like Jonathan Aguiar (61st place), Daniel Ospina (44th place), Jose Nacho Barbero (40th place), Michael "Mr. Hipster" Winnett (32nd place) and JJ Liu (30th place).
Here are the 15 players that will be returning tomorrow to decide the next WSOP champion:
| | |
| --- | --- |
| Thomas Jamieson | 221,000 |
| Craig Laben | 108,000 |
| Harrison Wilder | 142,000 |
| Jeff Williams | 185,000 |
| Matthew Elsby | 125,000 |
| Mitch Schock | 171,000 |
| Matt Matros | 153,000 |
| John Myung | 205,000 |
| | |
| --- | --- |
| Sean Nguyen | 327,000 |
| Scott Clements | 259,000 |
| Bill Davis | 416,000 |
| Bryan Pimlott | 208,000 |
| Chris Overgard | 186,000 |
| Paul Schumer | 26,000 |
| Tim Chauser | 371,000 |
Be sure to join PokerNews once again tomorrow at 2.30pm PST (GMT -7) as we bring you the exciting conclusion to this event. Until then, it's ciao for now!
Livello 20 : 8,000/16,000, 0 ante
On the final hand of the night, Sean Nguyen popped it up from the button and was called by table short stack, Michael Moore, from the big blind. The flop fell
and Moore bet out. He was called by Nguyen and the
hit the river. Moore threw in his last 1,100 and was called by Nguyen.
Nguyen:

Moore:
Moore was drawing dead going to the river with Nguyen's flush winning the hand. Michael Moore, a native of a town with a population of 72, will take home a prize of $7,526.
Livello 20 : 8,000/16,000, 0 ante
The tournament director has advised the dealers to deal three more hands, then it's quittin' time!
Livello 20 : 8,000/16,000, 0 ante
After flopping a pair of queens with his
, Charles Vargas got the rest of his stack in the middle. He was eliminated when William Davis caught a spade flush on the river. Vargas will collect $7,526 in winnings.
Livello 20 : 8,000/16,000, 0 ante
The action is moving along at a snail's pace as we edge ever closer to the end of Day 2, but Jeff Williams has just given away a portion of his stack to Matt Matros.
The action folded to Williams to raised from the hijack; Matros was the only caller from the call blind, so off they went to the flop of
. Matros opened, Williams raised and Matros called, then opened again on the turn of the
.
Matros opened again on the
, but Williams wanted none of it, electing to drop his hand into the muck. Matros is now up to 135,000. but still has some work to do if he wants to catch Williams, who's still hovering around the 200,000-chip mark.
Livello 20 : 8,000/16,000, 0 ante
Harrison Wilder raised preflop and was three-bet by Jeff Williams. The flop came down
. Wilder checked into Williams who bet. Wilder raised and Williams made the call.
The
came down on the turn and Wilder tossed out another bet, which Williams opted to call. When the
hit the river, Wilder bet out once again, only to be raised by Williams. Wilder announced that he knew he was beat, but called anyway. Williams flipped up
and scooped the pot with queens full of aces.
Livello: 20
Limiti: 8,000/16,000
Ante: 0
The remaining 18 players have now taken their new seats and play is back underway! As the players are filling out their final table profiles in between hands, we've been able to get in for another round of chip counts.
We were also able to get brief details of the demise of Robert Slezak. Slezak got the last of his chips into the middle before the flop with
, but John Myung's
managed to pair up to send Slezak to the rail in 18th place, good for $7,526.
Giocatore
Chip
Avanzamento

Bryan Pimlott

344,000

56,000

Jeff Williams

277,000

-40,000

Matthew Elsby

253,000

52,000

William Davis

250,000

95,000

Scott Clements

238,000

78,000

John Myung

210,000

106,500

Michael Moore

204,000

64,000

Thomas Jamieson

185,000

92,000

Timothy Chauser

182,000

52,000

Sean Nguyen

180,000

10,000

Harrison Wilder

115,000

22,000

Matt Matros

110,000

-40,000

Charles Vargas

100,000

65,000

Mitch Schock

100,000

-10,000

Chris Overgard

91,000

7,000

Craig Laben

70,000

35,000

Paul Schumer

46,000

-34,000

Robert Slezak

Eliminato
Livello 19 : 6,000/12,000, 0 ante
The last 18 players are now redrawing for seats once again. We'll have another round of counts for you very soon.