Event 3 - £10,000 No-Limit Holdem Main Event
Giorno 4 completo
Il final table del £10,000 No-Limit Holdem Main Event parte domani alle 2pm ora locale all'Empire Casino. 362 giocatori hano cominciato lunedi, in tre diversi casino'. Dopo sei crudeli giorni di poker, abbiamo i nove finalisti.

Domani uno dei seguenti giocatori vincera' £1,000,000 ed il bracciale delle WSOPE.

Seat 1: Johannes Korsar (Uppsala, Sweden) - 1,134,000
Seat 2: Oyvind Riisem (Bergen, Norway) - 664,000
Seat 3: John Tabatabai (London, UK) - 982,000
Seat 4: Annette "Annette_15" Obrestad (Sandnes, Norway) - 697,000
Seat 5: Dominic Kay (London, UK) - 490,000
Seat 6: Matthew McCullough (Cherry Hill, NJ) - 1,278,000
Seat 7: Theo Jorgensen (Copenhagen, Denmark) - 605,000
Seat 8: Magnus Persson (Gothenburg, Sweden) - 1,231,000
Seat 9: James Keys (Durham, UK) - 172,000

Final Table Payouts:
1 - £1,000,000
2 - £570,150
3 - £381,910
4 - £257,020
5 - £191,860
6 - £152,040
7 - £114,030
8 - £85,070
9 - £61,540
10 - £41,630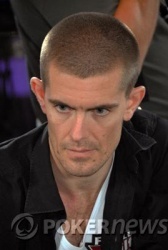 Annette_15 rilancia a 33,000. Matthew McCullough rilancia a 150,000. Gus Hansen va all in per 586,000. Annette_15 passa. McCullough vede subito potendo coprire hansen.
McCullough:
Hansen:
flop
. turn
e river
. Gus Hansen chiude decimo vincendo £41,630.
Il tavolo finale e' deciso. Tra poco il chipcount
Seat 1: Johannes Korsar
Seat 2: Oyvind Riisem
Seat 3: John Tabatabai
Seat 4: Annette "Annette_15" Obrestad
Seat 5: Dominic Kay
Seat 6: Matthew McCullough
Seat 7: Gus Hansen
Seat 8: Theo Jorgensen
Seat 9: Magnus Persson
Seat 10: James Keys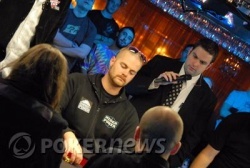 "All in and a call," The Hoff de Steve e' all in per 200-250k allo small blind con
, in corsa con Magnus Persson in UTG con
.
Sul tavolo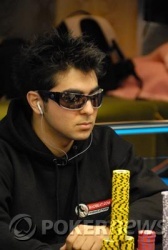 fuori posizione contro Gus Hansen potrebbe essere un incubo per molti giocatori ma John Tabatabai lo ha positivamente superato. Ha vinto piatti su piatti contro the Great Dane con una buona dose di steal. Gus ha comunque ancoa un bel po' di chips.... ci aspettiamo ancora fuochi d'artificio.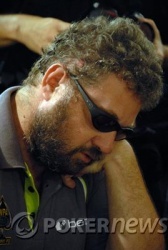 Tino Lechich e' andato all in da UTG con le sue restanti 167,000 ed e' stato coperto da Ovyind Riisem dal big blind. Lechich gira
, ma Riisen h
. Al flop
, turn
,e river
che da un tris a Riisen.
Un davvero short stacked James Keys e' andato all in con
e viene chiamato da John Tabatabai nei bui con
.
Flop:
Turn:
River:
raddoppio
Livelli dei bui incrementati a 6,000/12,000 con ante a 2,000. Restano 12 giocatori.
Livello:

17
Bui:

6,000/12,000
Ante:

2,000