Premiati A Sanremo I Vincitori Dell'italian Championship Of Online Poker (Icoop)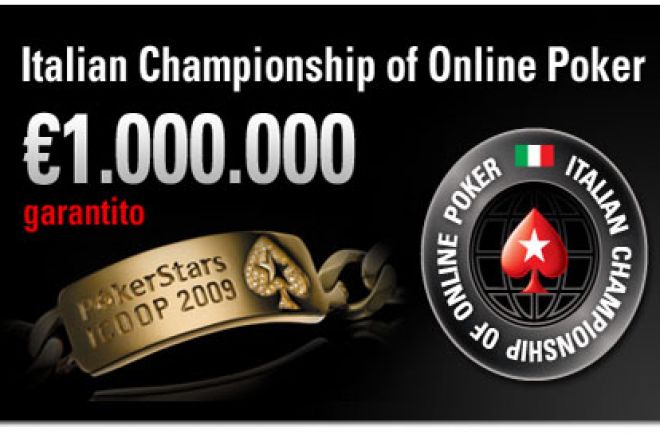 SANREMO – ITALIA, 11 Dicembre 2009 – Clima da "Las Vegas" al Casinò di Sanremo per l'attesissima premiazione dell'Italian Championship of Online Poker (ICOOP), la più grande serie di tornei online mai vista in Italia nella maggior parte delle varianti di poker, tra cui Texas Hold'em, Omaha e Razz.
Ai vincitori dei 22 eventi (per ciascuna variante giocata) sono stati consegnati i prestigiosi braccialetti ICOOP interamente realizzati in oro.
Alla promozione su PokerStars.it hanno partecipato ben 30.612 iscritti – di cui il numero record di 4.763 giocatori al main event - per un montepremi totale da Euro 1.162.930,00.
Di seguito, i nomi dei 22 vincitori e le relative specialità:
Marco De Vittorio NLHE con Rebuys Evento Low
Paolo Carollo NLHE (1 Rebuy) Evento High
Alessandro Bitteleri Razz Evento Low
Guido Carlomagno Razz Evento High
Pasquale Gregorio PL Omaha Evento Low
Diego Cavalla PL Omaha Evento High
Luigi Pignataro NL Hold'em [6-max] Evento Low
Ettore Caruso NL Hold'em [6-max] Evento High
Paolo Cossetto 8-Game Mix Evento Low
Francesco Mazzadi 8-Game Mix Evento High
Marco Mancini PL Omaha Hi/Lo Evento Low
Alessandro Sciolti PL Omaha Hi/Lo Evento High
Andrea Tiseni NLHE Triple Shootout Evento Low
Marco Battini NLHE Triple Shootout Evento High
Pierluigi Liaci NL 5 Card Draw Evento Low
Antonio Petti NL 5 Card Draw Evento High
Andrea Palermo NL Hold'em [Heads Up] Evento Low
Grazia Cusini NL Hold'em [Heads Up] Evento High
Andrea Fiorani Seven Card Stud Evento Low
Antonio Sica Seven Card Stud Evento High
Steven Bianchi NLHE Main Event Evento Low
Tiziano Corso NLHE Main Event Evento High