WSOP 2014: Negreanu al final table del Big One for One Drop; ottimo Lo Cascio nel Mixed Max!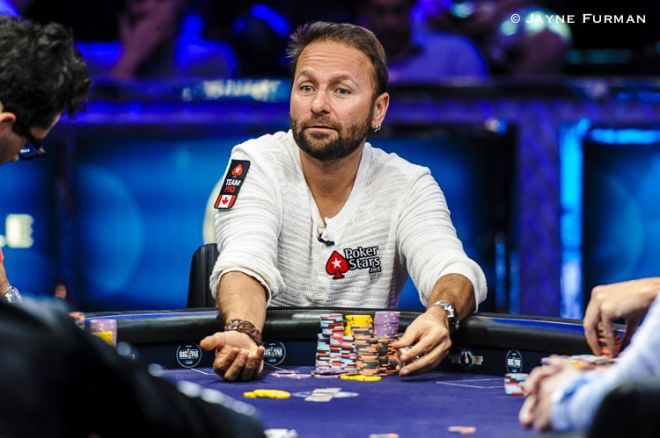 Evento #57 Big One for One Drop
Dopo 13 intensissime ed emozionati ore di gioco si è concluso anche il day 2 di uno degli eventi più attesi di queste WSOP 2014, ovvero il Big One for One Drop, torneo dal buy in di 1 milione di dollari, una parte dei quali devoluti in beneficienza in favore della fondazione One Drop.
Sono solo 9 i giocatori rimasti alla fine della seconda giornata di gioco ed in testa troviamo Rick Salomon, capace di chiudere la sua busta a quota 23,575,000 chips, comunque tallonato da vicinissimo da Tobias Reinkemeier (22,825,000), Daniel Colman (22,625,000) e Daniel Negreanu (20,700,000).
Concludono il quadro dei giocatori qualificati per il final table Cary Katz (9,125,000), Scott Seiver (8,250,000), Tom Hall (7,775,000), Christoph Vogelsang (7,075,000) e Paul Newey (4,050,000).
Ricordiamo che ad attendere il vincitore del torneo c'è una fantastica prima moneta da $15,306,668, ma nonostante questo i 9 left non sono ancora "al sicuro" in quanto saranno soltanto 8 i giocatori premiati (minimo di $1,306,667) e quindi uno di loro dovrà abbandonare il torneo con un pugno di mosche in mano nonostante il pass ottenuto per il final day.
Tra i tanti giocatori eliminati dal torneo troviamo invece il businessman John Morgan, primo eliminato durante il day 2 e seguito a ruota pochi minuti dopo da Talal Shakerchi, Jean-Robert Bellande e Guy Laliberté. Stessa sorte toccata qualche momento dopo anche a Daniel Cates, David Sands, Greg Merson ed al chipleader del day 1 Sam Trickett, prima azzoppato da Antonio Esfandiari e successivamente bustato da Negreanu grazie ad un trips chiuso al river utile per deplodere la coppia d'assi dell'inglese.
Poca fortuna toccava inoltre al già citato Esfandiari, a Phil Ivey ed a Phil Galfond, che si arrendevano tutti ad un passo dall'approdo al final table.
Final table chipcount & payout:
Evento #58 $1,500 No Limit Hold'em Mixed Max
1,475 giocatori si sono presentati ai nastri di partenza dell'evento #58 $1,500 No Limit Hold'em Mixed Max andando a creare un prizepool da $1,991,250 ed un primo premio da oltre $405,000.
Alla chiusura delle buste comanda Shashank Jain con 130,300 chips, seguito da Brandon Cantu che si è reso protagonista dell'ennesimo day 1 da incorniciare chiudendo a 122,300 pezzi nonostante si sia seduto ai tavoli solo dopo la pausa cena, giocando quindi appena 4 livelli nel corso della giornata.
Molto bene si comporta inoltre per i colori azzurri il palermitano Ferdinando Lo Cascio, che riesce finalmente a lasciare il segno in queste World Series of Poker chiudendo nella top 10 provvisoria del count con 108,000 chips quando rimangono in corsa solo 181 giocatori con 162 di questi che andranno a premio.
Altri italiani qualificati per il day 2 sono Muhamet Perati (37,000), Niccolò Caramatti (32,900), Silvio Crisari (18,400), Sergio Castelluccio (16,300) e Massimo Mosele (11,400).
Riescono a chiudere sopra la fatidica soglia dei 100K Joshua Schoonover (114,500), Rupesh Pattni (112,800), Jared Jaffee (109,300), Jared Vengrin (104,200) ed Anthony Diotte (100,000), mentre tra i giocatori qualificati per il day 2 troviamo inoltre Allen Cunningham (48,600), James McManus (48,200), Dan Kelly (47,000), Jeff Gross (35,300), James Woods (33,500), Jason Somerville (24,000), Gavin Smith (22,900), Matt Waxman (19,200), Jason Koon (14,700) ed Erick Lindgren (12,800).
Subito eliminati invece, tra gli altri, Annette Obrestad, Tony Cousineau, Alex Queen, Greg Raymer, Mike Sowers, Lee Childs, Jerry Yang, Chris Moorman, Huck Seed, Todd Terry, Kevin Saul, Dan O'Brien, Dwyte Pilgrim, Dan Shak e Carlos Mortensen.
*Data courtesy of WSOP.com.
Per rimanere sempre aggiornato su tutto quello che accade nel mondo del poker, segui PokerNews Italia su Twitter e diventa fan su Facebook.