PartyPoker Weekly: Tony G sul Big Game, Settembre Points Promo posta in gioco e per beneficenza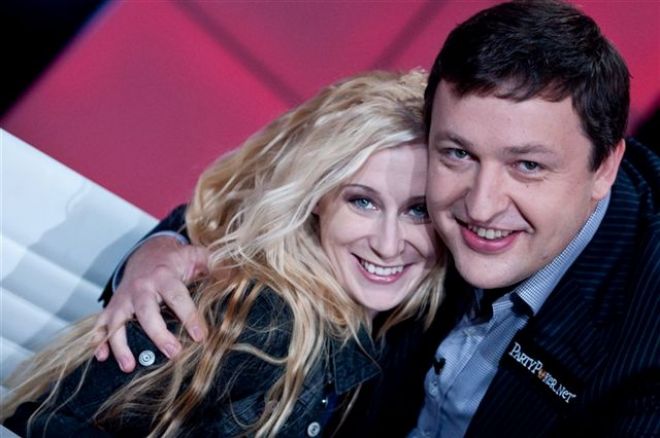 Tony G non può tenere la bocca chiusa ancora una volta, più una sneak peak di una promo fantastica di settembre.
Tony G diatrugge Hellmuth e Negreanu al Big Game
In quello che sta diventando una possibilità settimanale per rimproverare i suoi colleghi professionisti del poker, Tony G é stato difronte Daniel Negreanu e Phil Hellmuth, il quale ha messo in tv al Big Game in Vegas.
"Hellmuth was on my table, I destroyed him – that bike thief Negreanu was also on my table. After taking a loan from him last time out I crushed him and then I crushed him again!"
A un certo punto Tony aveva oltre $ 1 milione di fronte a lui durante il gioco cash:
"I dispatched every super pro ruthlessly – first I removed their soul, followed by their hearts and then their spinal columns! Finally, of course, I took their money!"
Phil Hellmuth ha persino fatto le valigie e preso la sua roba per lasciare il gioco. Potete trovare tutto al riguardo, il German Shepherd di Steve Wynn e molto di più al suo Party Poker Blog.
Il migliore Bonus nel Poker: Free $30 di Bonus senza Deposito
Nel caso lo perdessi, potrai partecipare ad ogni PartyPoker che ti viene offerto senza spendere un centesimo o anche il deposito. $30 bonus significa che non dovrai spendere neanche un soldo per giocqre a poker.
Tutto quello che dovete fare è download PartyPoker usando i PN links, registrarsi, ed usare il Codice Bonus PN50FREE é tutto qui. $15 subito sul tuo account. Ma non solo questi, hai l'opportunità di ricevere altri $25 di bonus anche sul tuo account! Tutto quello che devi fare é guadagnare 200 PartyPoker Points ed altri $25 in soldi reali verranno accreditqti sul tuo account.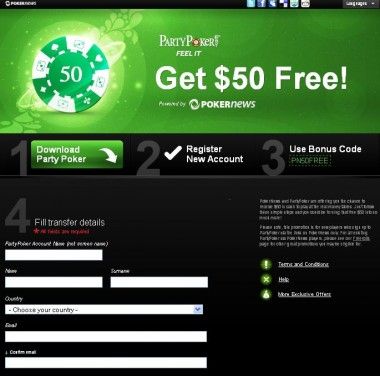 Arriva in Settembre – Il Snowball
Abbiamo una sneak peak a quello che ci si può aspettare nel mese prossimo su PartyPoker, e verrà chiamato [B] SnowBall [/ B]! E 'una gara con un punto di differenza, come non gareggerai contro nessuno, ma contro te stesso. Ci sono premi in denaro e freeroll tickets lungo il percorso. Si vinceranno premi in denaro su di una serie di tappe con un totale di [B] $ 5000 in valore aggiunto [/ B] e più di una tonnellata di biglietti freeroll. Questo è grande e previsto in settembre!
[IMG storage="4c6e96374d087.jpg" wh="380x376" align="center"][/IMG]
[B][I]WPT Borgata Qualifiers ancora attivo[/I][/B]
Hai fino al 5 Settembre per vincere il tuo posto al [URL="https://www.pokernews.com/partypoker/world-poker-tour-satellites.htm"]World Poker Tour Borgata Poker Open[/URL] in Atlantic City. L'evento si terrà da [B]September 19 [/B] al [B]24[/B] e tu puoi vincere un pqcchetto di $7,500 con incluso un $3,500 di buy-in , $2,250 per le spese e 7 notti in a luxury hotel. [IMG storage="4c6e96374d087.jpg" wh="380x376" align="center"][/IMG]
[I]Il main qualifier sqrà domenica alle 15:20 ET con un buy-in di $320. I Sub satellites cominciano da GRATIS, come da $1 e $8 feeders. Hai bisogno di [URL="https://www.pokernews.com/party-poker/"]PartyPoker Account[/URL] per qualificarti. [/I]
[B][I]Raising the Stakes for Great Ormond Street[/I][/B]
PartyPoker é una delle piu grandi poker rooms per essere coinvolto nel [I]Raising the Stakes Appeal per il grande Ormond Street Hospital. [/I]Loro verrqnno insieme con un numero di altri giocatori per il 'Raising the Stakes Inaugural Founders' Evening' nella Red Room del [I]Les Ambassadeurs Club[/I] il [I]Thursday 30 Septembre 2010.[/I]
Se vuoi prendere parte al Raising the Stakes, vai su [URL="www.gosh.org/raisingthestakes"+]www.gosh.org/raisingthestakes[/URL]
[B][I]Guardq il Big Game IV Online[/I][/B]
Fino ad ora, solo i residenti dell'United Kingdom potevano guardare gli episodi del [B]PartyPoker Big Game IV[/B], sponsorizzati da [I]PokerNews[/I]. Ma adesso PartyPoker ha cominciato a mettere gli episodi sul blog e tu potrai vederli quando vuoi da tutte le parti del mondo! Guarda l'ultimo episodio:
[IMG storage="4c6e96374d087.jpg" wh="380x376" align="center"][/IMG]
[I]PartyPoker ha le migliori promozioni del poker e nessuno ha gli esclusivi PartyPoker promozioni che Pokernews. Assicurqti [URL="https://www.pokernews.com/party-poker/"][B]di registrarti su PartyPoker via Pokernews[/B][/URL] per avere tutti i regali e le future promozioni. [/I]
[IMG storage="4c6e93d5b1cec.png" wh="495x366" align="center" hide="1"][/IMG]
[IMG storage="4c6e941333bc8.png" wh="543x276" align="center" hide="1"][/IMG]
[IMG storage="4c6e9429e50c6.png" wh="543x276" align="center" hide="1"][/IMG]
[HTML hide="1"]<object classid="clsid:D27CDB6E-AE6D-11cf-96B8-444553540000" width="580" height="350" id="svdo_0" name="svdo_0"><param name="movie" value="http://www.partypoker.com/blog/wp-content/plugins/stream-video-player/player.swf?ver=1.2.0" /><param name="quality" value="high" /><param name="allowfullscreen" value="true" /><param name="allowscriptaccess" value="always" /><param name="flashvars" value="gapro.accountid=UA-17223521-1&amp;title=PartyPoker Big Game IV - Episode 6&amp;dock=true&amp;controlbar=over&amp;autostart=false&amp;volume=90&amp;provider=video&amp;streamer=http://www.partypoker.com/blog/wp-content/plugins/stream-video-player/streamer.php&amp;bufferlength=5&amp;logo.file=http://www.partypoker.com/blog/wp-content/uploads/2010/07/watermark.png&amp;sharing.link=http://www.partypoker.com/blog/?p=6384&amp;plugins=sharing,gapro,sharing&amp;file=http://videos.partypoker.com/tv/big-game-six.flv&amp;image=http://partypoker.com/blog/wp-content/uploads/2010/07/big-game.jpg&amp;sharing.code=%3Cobject%20classid%3D%22clsid%3AD27CDB6E-AE6D-11cf-96B8-444553540000%22%20width%3D%22580%22%20height%3D%22350%22%20id%3D%22svdo_0%22%20name%3D%22svdo_0%22%3E%3Cparam%20name%3D%22movie%22%20value%3D%22http%3A//www.partypoker.com/blog/wp-content/plugins/stream-video-player/player.swf%3Fver%3D1.2.0%22%20/%3E%3Cparam%20name%3D%22quality%22%20value%3D%22high%22%20/%3E%3Cparam%20name%3D%22allowfullscreen%22%20value%3D%22true%22%20/%3E%3Cparam%20name%3D%22allowscriptaccess%22%20value%3D%22always%22%20/%3E%3Cparam%20name%3D%22flashvars%22%20value%3D%22gapro.accountid%3DUA-17223521-1%26amp%3Btitle%3DPartyPoker%20Big%20Game%20IV%20-%20Episode%206%26amp%3Bdock%3Dtrue%26amp%3Bcontrolbar%3Dover%26amp%3Bautostart%3Dfalse%26amp%3Bvolume%3D90%26amp%3Bprovider%3Dvideo%26amp%3Bstreamer%3Dhttp%3A//www.partypoker.com/blog/wp-content/plugins/stream-video-player/streamer.php%26amp%3Bbufferlength%3D5%26amp%3Blogo.file%3Dhttp%3A//www.partypoker.com/blog/wp-content/uploads/2010/07/watermark.png%26amp%3Bsharing.link%3Dhttp%3A//www.partypoker.com/blog/%3Fp%3D6384%26amp%3Bplugins%3Dgapro%2Csharing%26amp%3Bfile%3Dhttp%3A//videos.partypoker.com/tv/big-game-six.flv%26amp%3Bimage%3Dhttp%3A//partypoker.com/blog/wp-content/uploads/2010/07/big-game.jpg%22%20/%3E%3C%21--%5Bif%20%21IE%5D%3E--%3E%3Cobject%20type%3D%22application/x-shockwave-flash%22%20data%3D%22http%3A//www.partypoker.com/blog/wp-content/plugins/stream-video-player/player.swf%3Fver%3D1.2.0%22%20width%3D%22580%22%20height%3D%22350%22%20name%3D%22svdo_0%22%3E%3Cparam%20name%3D%22quality%22%20value%3D%22high%22%20/%3E%3Cparam%20name%3D%22allowfullscreen%22%20value%3D%22true%22%20/%3E%3Cparam%20name%3D%22allowscriptaccess%22%20value%3D%22always%22%20/%3E%3Cparam%20name%3D%22flashvars%22%20value%3D%22gapro.accountid%3DUA-17223521-1%26amp%3Btitle%3DPartyPoker%20Big%20Game%20IV%20-%20Episode%206%26amp%3Bdock%3Dtrue%26amp%3Bcontrolbar%3Dover%26amp%3Bautostart%3Dfalse%26amp%3Bvolume%3D90%26amp%3Bprovider%3Dvideo%26amp%3Bstreamer%3Dhttp%3A//www.partypoker.com/blog/wp-content/plugins/stream-video-player/streamer.php%26amp%3Bbufferlength%3D5%26amp%3Blogo.file%3Dhttp%3A//www.partypoker.com/blog/wp-content/uploads/2010/07/watermark.png%26amp%3Bsharing.link%3Dhttp%3A//www.partypoker.com/blog/%3Fp%3D6384%26amp%3Bplugins%3Dgapro%2Csharing%26amp%3Bfile%3Dhttp%3A//videos.partypoker.com/tv/big-game-six.flv%26amp%3Bimage%3Dhttp%3A//partypoker.com/blog/wp-content/uploads/2010/07/big-game.jpg%22%20/%3E%3C%21--%3C%21%5Bendif%5D--%3E%3Cdiv%20style%3D%22background-color%3A%23ff9%3Bpadding%3A10px%3B%22%3EYou%20need%20to%20install%20or%20upgrade%20Flash%20Player%20to%20view%20this%20content%2C%20install%20or%20upgrade%20by%20%3Ca%20href%3D%22http%3A//www.adobe.com/go/getflashplayer%22%3Eclicking%20here%3C/a%3E.%3C/div%3E%3C%21--%5Bif%20%21IE%5D%3E--%3E%3C/object%3E%3C%21--%3C%21%5Bendif%5D--%3E%3C/object%3E" /><!--[if !IE]>--><object type="application/x-shockwave-flash" data="http://www.partypoker.com/blog/wp-content/plugins/stream-video-player/player.swf?ver=1.2.0" width="580" height="350" name="svdo_0"><param name="quality" value="high" /><param name="allowfullscreen" value="true" /><param name="allowscriptaccess" value="always" /><param name="flashvars" value="gapro.accountid=UA-17223521-1&amp;title=PartyPoker Big Game IV - Episode 6&amp;dock=true&amp;controlbar=over&amp;autostart=false&amp;volume=90&amp;provider=video&amp;streamer=http://www.partypoker.com/blog/wp-content/plugins/stream-video-player/streamer.php&amp;bufferlength=5&amp;logo.file=http://www.partypoker.com/blog/wp-content/uploads/2010/07/watermark.png&amp;sharing.link=http://www.partypoker.com/blog/?p=6384&amp;plugins=sharing,gapro,sharing&amp;file=http://videos.partypoker.com/tv/big-game-six.flv&amp;image=http://partypoker.com/blog/wp-content/uploads/2010/07/big-game.jpg&amp;sharing.code=%3Cobject%20classid%3D%22clsid%3AD27CDB6E-AE6D-11cf-96B8-444553540000%22%20width%3D%22580%22%20height%3D%22350%22%20id%3D%22svdo_0%22%20name%3D%22svdo_0%22%3E%3Cparam%20name%3D%22movie%22%20value%3D%22http%3A//www.partypoker.com/blog/wp-content/plugins/stream-video-player/player.swf%3Fver%3D1.2.0%22%20/%3E%3Cparam%20name%3D%22quality%22%20value%3D%22high%22%20/%3E%3Cparam%20name%3D%22allowfullscreen%22%20value%3D%22true%22%20/%3E%3Cparam%20name%3D%22allowscriptaccess%22%20value%3D%22always%22%20/%3E%3Cparam%20name%3D%22flashvars%22%20value%3D%22gapro.accountid%3DUA-17223521-1%26amp%3Btitle%3DPartyPoker%20Big%20Game%20IV%20-%20Episode%206%26amp%3Bdock%3Dtrue%26amp%3Bcontrolbar%3Dover%26amp%3Bautostart%3Dfalse%26amp%3Bvolume%3D90%26amp%3Bprovider%3Dvideo%26amp%3Bstreamer%3Dhttp%3A//www.partypoker.com/blog/wp-content/plugins/stream-video-player/streamer.php%26amp%3Bbufferlength%3D5%26amp%3Blogo.file%3Dhttp%3A//www.partypoker.com/blog/wp-content/uploads/2010/07/watermark.png%26amp%3Bsharing.link%3Dhttp%3A//www.partypoker.com/blog/%3Fp%3D6384%26amp%3Bplugins%3Dgapro%2Csharing%26amp%3Bfile%3Dhttp%3A//videos.partypoker.com/tv/big-game-six.flv%26amp%3Bimage%3Dhttp%3A//partypoker.com/blog/wp-content/uploads/2010/07/big-game.jpg%22%20/%3E%3C%21--%5Bif%20%21IE%5D%3E--%3E%3Cobject%20type%3D%22application/x-shockwave-flash%22%20data%3D%22http%3A//www.partypoker.com/blog/wp-content/plugins/stream-video-player/player.swf%3Fver%3D1.2.0%22%20width%3D%22580%22%20height%3D%22350%22%20name%3D%22svdo_0%22%3E%3Cparam%20name%3D%22quality%22%20value%3D%22high%22%20/%3E%3Cparam%20name%3D%22allowfullscreen%22%20value%3D%22true%22%20/%3E%3Cparam%20name%3D%22allowscriptaccess%22%20value%3D%22always%22%20/%3E%3Cparam%20name%3D%22flashvars%22%20value%3D%22gapro.accountid%3DUA-17223521-1%26amp%3Btitle%3DPartyPoker%20Big%20Game%20IV%20-%20Episode%206%26amp%3Bdock%3Dtrue%26amp%3Bcontrolbar%3Dover%26amp%3Bautostart%3Dfalse%26amp%3Bvolume%3D90%26amp%3Bprovider%3Dvideo%26amp%3Bstreamer%3Dhttp%3A//www.partypoker.com/blog/wp-content/plugins/stream-video-player/streamer.php%26amp%3Bbufferlength%3D5%26amp%3Blogo.file%3Dhttp%3A//www.partypoker.com/blog/wp-content/uploads/2010/07/watermark.png%26amp%3Bsharing.link%3Dhttp%3A//www.partypoker.com/blog/%3Fp%3D6384%26amp%3Bplugins%3Dgapro%2Csharing%26amp%3Bfile%3Dhttp%3A//videos.partypoker.com/tv/big-game-six.flv%26amp%3Bimage%3Dhttp%3A//partypoker.com/blog/wp-content/uploads/2010/07/big-game.jpg%22%20/%3E%3C%21--%3C%21%5Bendif%5D--%3E%3Cdiv%20style%3D%22background-color%3A%23ff9%3Bpadding%3A10px%3B%22%3EYou%20need%20to%20install%20or%20upgrade%20Flash%20Player%20to%20view%20this%20content%2C%20install%20or%20upgrade%20by%20%3Ca%20href%3D%22http%3A//www.adobe.com/go/getflashplayer%22%3Eclicking%20here%3C/a%3E.%3C/div%3E%3C%21--%5Bif%20%21IE%5D%3E--%3E%3C/object%3E%3C%21--%3C%21%5Bendif%5D--%3E%3C/object%3E" /><!--<![endif]--><div style="background-color:#ff9;padding:10px;">You need to install or upgrade Flash Player to view this content, install or upgrade by <a href="http://www.adobe.com/go/getflashplayer">clicking here</a>.</div><!--[if !IE]>--></object><!--<![endif]--></object>[/HTML]