Main Event
Giorno 1A completo
Livello 7 : 400/800, 100 ante
Giocatore
Chip
Avanzamento

Nahum Lum

158,500

158,500

Matt Carter

154,100

29,100

Nan Hong

149,300

6,300

Kai Yat Fam

111,900

111,900

Derek Cheung

108,100

108,100

Nick Wong

104,800

104,800

Dinesh Alt

102,800

7,800

Rauf Bikbulatov

98,600

98,600

Vladimir Troyanovskiy

96,800

27,800

Hui Li

94,500

94,500

Ivan Zalac

92,100

-2,900

Alex Dich

86,700

86,700

Dilip Parmanand

85,100

85,100

Rinat Gubaydullin

76,400

76,400

Sangeeth Mohan

74,500

74,500

Cheng Cheng

69,600

69,600

Mathew Pecker

66,800

66,800

Daniel Sing

61,700

61,700

Hisashi Ogi

61,400

61,400

Lalit Punjabi

59,200

59,200

Seungsoo Jeon

55,900

55,900

Siddharth Jain

54,900

54,900

Chengting Zhang

54,300

54,300

Tommy Wong

50,400

50,400

Yeon Kyeong Yu

48,100

48,100
Livello 7 : 400/800, 100 ante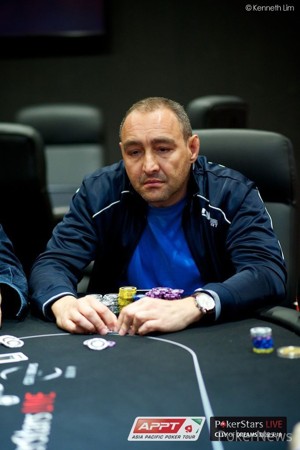 Il primo giorno di gioco di questo Main Event del PokerStars.it APPT Macao 2013 va in archivio. Si sono giocati sette livelli da 60 minuti nel Day 1A che ha visto un totale di 184 partecipanti.
A chiudere in testa alla fine della giornata è Nahum Lum con 158.500 chips.
Lum ha conquistato la testa della classifica nelle ultime mani, quando gli altri big stack hanno perso un po' di terreno. Tra loro ci sono Matt Carter (154.100) e Nan Hong (149.300) che si sono ritrovati coinvolti in una delle più grosse mani di oggi.
Altri volti noti che hanno preso parte alla competizione sono Liam O'Rourke, Jason Lee, Ivan Zalac, Trung Tran, Nick Wong, Dinesh Alt, and Minh Nguyen. Questi ultimi passano tutti al Day 2 e domani potranno godere di un giorno di riposo.
Alcuni dei giocatori che non sono riusciti ad arrivare alla fine della giornata, invece, sono Oliver Speidel, Sparrow Cheung, Mishel Anunu, Aaron Lim, Michael Kanaan, Celina Lin, Jae Kyung Sim, Vincent Rubianes and Ryan Hong.
Il Day 1B avrà inizio domani alle 9:00 ora italiana. La magnifica "City of Dream" e PokerStars.it Macao ospiteranno nuovamente un field che potrebbe attestarsi sulle 250 unità circa. Assicuratevi, quindi, di risintonizzarvi sulle frequenze di PokerNews.it!
Livello 7 : 400/800, 100 ante
Clock fermo a 15 minuti e direttore del torneo Danny McDonagh che annuncia le ultime 4 mani di giornata.
Livello 7 : 400/800, 100 ante
Apre il giocatore in middle positon a 1.600 e chiamano Ted Wang e Minh Nguyen. Nan Hong rilancia a 4.000 dal bottone trovando il call di tutti e tre gli avversari
Flop:

Middle position tanka un minuto e poi punta 13.000. Wang va allin per 50.000. Nguyen passa e Hong fa call allin per 44.400. Anche middle position si butta dentro chiamando allin per 41.100
Showdown:
MP:

Wang:

Hong:
Turn
River
Hong va a 143.000 chips
Livello 7 : 400/800, 100 ante
Giocatore
Chip
Avanzamento

Ivan Zalac

95,000

10,000

Dinesh Alt

95,000

39,000

Wen-Ming Tu

52,000

-26,000

Liam O'Rourke

45,000

27,150

Justin Chan

32,000

21,000

Jason Lee

27,000

-11,000

Tony Gregg

21,000

7,000

Akira Ohyama

18,000

-27,000

Raymond Wu

17,500

-1,500

George Ghica

16,500

-13,500

Trung Tran

15,000

6,700

Ryan Hong

Eliminato
Livello 7 : 400/800, 100 ante
Apre Nicky Wong da bottone a 1.750 e Matt Carter rilancia a 3.500. Il big blind pusha per 16.375 e Wong chiama. Carter passa
Wong:

Opponent:
Board:
Giocatore
Chip
Avanzamento

Nicky Wong

125,000

25,000

Matt Carter

125,000
Livello 7 : 400/800, 100 ante
I giocatori sono tornati per giocare l'ultimo livello di oggi
Livello: 7
Bui: 400/800
Ante: 100
Livello 6 : 300/600, 75 ante
I giocatori rimasti si fermano per 10 minuti