Is the Magic of Vamplew Gone?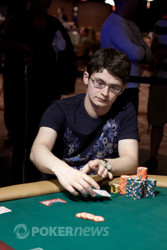 David Vamplew has been unable to work his magic on either Jeffrey Papola or Eddie Blumenthal and as a result, he has slipped back to almost two million.
Earlier, the action folded to Jeffrey Papola who raised to 60,000 from the button before Vamplew called from the big blind to go heads-up to the flop of
. Vamplew check-called Papola's bet of 80,000, but then check-folded after Papola led out for 180,000 on the turn of the
.
A short time later, Blumenthal raised from under the gun to 65,000 and the action folded to Vamplew who called from the button. Blumenthal then opened for 90,000 on the flop of
and Vamplew called before both players checked the turn of the
and the river
.
Blumenthal showed
for the set and Vamplew mucked his hand.