Akkari's Already Up
Livello 1 : 25-25, 0 ante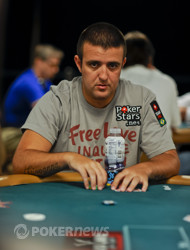 A quick trek through the black section of the Pavillion Room has revealed the presence of two Team PokerStars Pros - Costa Rican sharkboy Humberto Brenes (who is on Table 30) and Brazilian phenom Andre Akkari, who's already taken down a pot over on Table 37.
The action folded to Akkari, who raised to 75 from the cutoff. The player in the big blind called, so it was heads-up to the flop of
.
The big blind check-called Akkari's bet of 125 after the flop, then did the same for Akkari's bet on the turn of the
before the dealer produced the
on the river.
The big blind checked, and Akkari fired out a third shell worth 1,700, sending the big blind into the tank for over two minutes before he reluctantly let his hand go. Akkari is now up to over 5,000 in chips.