A Face in the Crowd
Livello 4 : 200-400, 0 ante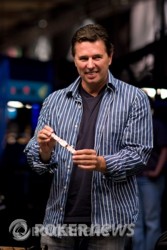 We just spotted Phil Tom in the field, and that's big news for any of you who (used to) play online poker. Tom was reportedly the main investor behind Absolute Poker, funneling money through his son and founder Scott to build one of the largest online poker rooms in the world.
There's some drama though, and we'd imagine there are a few people who aren't so happy to see Tom today. Long after Absolute was sold in 2006, his son Scott Tom's name resurfaced in connection with an alleged cheating scandal on the site. Father Phil came to his son's defense, fervently arguing that the allegations were ridiculous. Still, the poker community came to know Scott Tom as one of the cheaters behind screen name like "POTRIPPER" and "GREYCAT". In late 2008, rumors surfaced that both Scott and Phil Tom were under a sealed indictment from the federal government in connection with the scandal, rumors that never materialized.
Earlier this year, Scott Tom was indeed indicted, but not for cheating. His name came up as one of the 11 roped into the Department of Justice's crackdown on online poker, courtesy of the UIGEA. For now, nobody really knows where Scott is, but we've got Phil in the field with us today. He's not just a middle-aged guy with lots of money to throw around on poker, either. In 2008, at the height of the speculation about the cheating at Absolute Poker, Tom won his first bracelet in the $5,000 Shootout event, beating Greg Mueller heads up at a stacked final table. He has close to $700,000 in career earnings.