"How Long Have You Been Playing Poker?"
Livello 6 : 300-600, 0 ante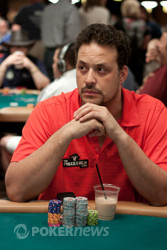 When we walked up to the table, the board read
, and Allen Kessler and Jean-Robert Bellande were heads up. We're not certain exactly what the action was, but we know that Bellande was faced with a bet when he tossed enough chips in to make the call. There was a pause.
"Is that a raise?" Kessler questioned.
Bellande said nothing.
"Dealer," Andrew Brown piped up. "Is that a raise?"
"I don't know," he answered sheepishly.
Bellande stared into space silently. Eventually the dealer decided it was just a call, and dealt the river; the
. Bellande checked, Kessler bet, and Bellande tank-folded. While Kessler was stacking his new chips, Bellande finally spoke.
"How long have you been playing poker, Allen?" he said bitterly. "That was clearly a call."
"I looked away," Kessler protested. "Thats why I asked."
The two continued to bicker, but it's Kessler who's a few thousand chips richer at the moment.