The Grinder and Mike the Mouth
Livello 7 : 400-800, 0 ante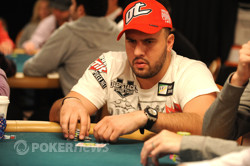 The most recent victim of Day 1 is Michael Mizrachi, and he's really hearing it right now. "Grinder" is trying to have a conversation with some friends on the rail, but Mike Matusow and his own brother, Robert, are giving him a tough time.
"I heard Ewee (brother Eric) has more cashes than you this year, Grinder!" Matusow yelled. "You lasted six levels in this one. That's actually pretty good for you!"
Robert Mizrachi was running around in between the tables, laughing hysterically at the scene unfolding. And Matusow was still going. "Eric's played one event, and he lasted longer than you have in all six events combined!" The verbal onslaught continued as we walked away from the table to find something quieter to write about.