Kostritsyn Gets in Deep
Livello 10 : 800-1,500, 0 ante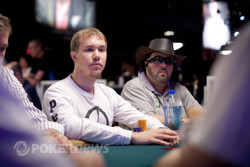 Alex Kostritsyn raised in early position, and Dario Alioto three-bet a couple seats over. Kostritsyn called, and off they went to the flop heads-up.
It came
, and Kostritsyn led right back out with a bet. Alioto called there, and he called again after the turn brought the
. Kostritsyn bet one more time after the
river, and it was there that Alioto finally raised to two bets. Kostritsyn probably knew what was what, but he splashed the last 3,000 into the pot to see for sure.
Alioto turned over
, and his queens full of aces gets him the full pot. After that exchange, Alioto is up to 40,000, and Kostritsyn is back down to 69,000 -- about where he started the day.