Lawson Tanks and Busts
Livello 17 : 4,000-8,000, 0 ante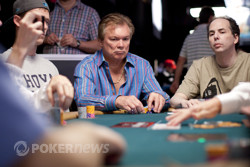 In early position, Eric Buchman opened with a raise, and Ray Dehkargani three-bet next door. In the cutoff seat, Ted Lawson spent long enough considering his play that the clock had to be called on him. He let it tick almost all the way down to zero before finally calling. Odd.
The
came on the flop, and Dehkargani led the betting. Lawson called, and Buchman check-raised to force both opponents to put in two bets. Buchman led the
turn with both opponents calling, and the
filled out the board on the river. Buchman fired one more time, Dehkargani folded, and Lawson called all in for his tournament life.
He showed up
for the ace-high flush, but it was no good. Buchman's
had flopped it full, and he's up to 334,000 after stacking the rest of Lawson's chips into his own pile.