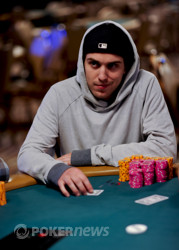 Welcome back for Day 3 of the $10,000 Omaha Hi-Lo Championship. Today is the final day of this event. At least that's what the schedule tells us. In reality, though, the chances of us playing down to a winner within the allotted twelve hours is quite slim. In this event last year, 23 players returned for Day 3, and it was well after sunrise before Sammy Farha slipped the bracelet on his wrist. We have a ten-level cap on the day, so we'll likely still have a partial table full of players when the clock runs out.
Guillaume Rivet has a pile of chips in his bag, working his stack up to 809,000 by the end of Day 2. His nearest challenger is Alessio Isaia, and he'll be a favorite to make his second final table of the 2011 WSOP today. Mike Sexton bubbled the final table of this event last year with a 10th-place finish, and he'll be looking to carry his 321,000 chips a little farther than that this time around.
Joining those fellas are the likes of Richard "Chufty" Ashby, Steve Billirakis, Josh Arieh, Eric Buchman, and our two favorite Deebs, Shaun and Freddy.
Things are set to get rolling in about 25 minutes, and we've got a ringside seat for the action. We'll reduce this field as far as we can before we run out of levels on what will no doubt be an action-packed day. Stay tuned!