Lemke Sends Gardenhire Home and Hits Half a Million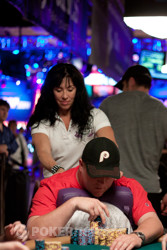 From the cutoff seat, the 2009 winner of this very event Brian Lemke raised to 13,000. Justin Gardenhire reraised from the button to 42,000. Action folded through the blinds and back to Lemke. He announced that he was all in after a minute of thought and Gardenhire called to put himself at risk. Gardenhire was all in for approximately 125,000 total with Lemke having him well covered. Now for the hands.
Lemke tabled the
to hold two overcards to Gardenhire's
. The flop came down
and Lemke picked up the lead with a pair of aces. Gardenhire would need a jack or running straight cards to stay alive and double up.
The turn brought the
and now Gardenhire could only catch a jack. The river completed the board with the
and that was the end of the line for Gardenhire. He was eliminated while Lemke saw his stack hit half a million in chips.
Back in 2009, Lemke won this event for $692,690 after besting a field of 655 players. He defeated a final table that included Thomas Keller, MIke Sowers, Isaac Baron and Billy Kopp. In total, Lemke has $934,830 in live tournament earnings to his name, not including this cash.
Can he win another bracelet here in a event he's already conquered once? Stay tuned to PokerNews to find out!