Lemke In Charge to Start Day 3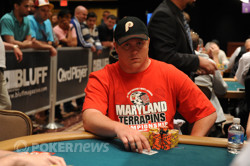 Welcome back for the third day of play here in Event #4: $5,000 No-Limit Hold'em at the 2011 World Series of Poker. Things will be recommencing at 2:30 PM PT and what a day it's going to be. Leading the final 42 players who have advanced this far is the 2009 winner of this very event Brian Lemke. He holds nearly one million in chips and nearly a 300,000-chip lead over Allen Bari in second place.
Those two aren't the only big names left in the field. Sergey Rybachenko, Steven Levy, Jonathan Little, Matt Glantz, JC Tran, Carlos Mortensen, Tim West and Bernard Lee are all still alive to join them, making this an extremely tough field of competitors. Out of that bunch, it's Rybachenko holding the most chips with 614,000. There is also still one woman left in the field and that's Maria Ho. She's clinging to the second shortest stack in the room with 91,000, but everyone knows she's dangerous and that anything can happen in this game.
With 42 players left, everyone is guaranteed at least $18,863 in prize money. That's not going to be what's on their minds though as first place sits at nearly $875,000! Everyone, including Joseph Kuether with the shortest stack in the room, has their eye on that top prize.
As always, PokerNews has got you covered on all things WSOP. Our very own resident Aussie, the lovely, beautiful and talented Lynn Gilmartin will go ahead and give you the skinny on the most current happenings at the WSOP in the June 4th update below.
We'll see you back here around 2:30 PM for the start of Day 3 of this event. In the meantime, PokerNews has plenty of other live reporting going on for the 2011 WSOP, so be sure to check that out.