Eights Are Good?
Livello 9 : 600/1,200, 100 ante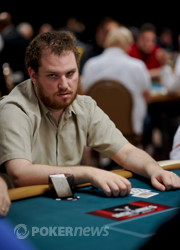 Scott Seiver - (x) (x) /
/ (x)
Brent Hanks - (x) (x) /
/ (x)
Hanks started the hand by completing, Seiver raised, and Hanks called. Hanks check-called bets on both fourth and fifth street, but on sixth and seventh both players checked. Seiver opened up
for just a pair of eights, and Hanks mucked his hand.