Deeb vs. Buchman II
Livello 15 : 2,500-5,000, 500 ante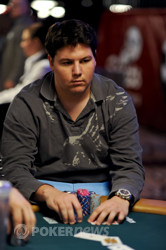 Eric Buchman - (x) (x) /
/ (x)
Shaun Deeb - (x) (x) /
/ (x)
To start the hand, Buchman completed and Deeb made the call. Buchman proceeded to lead out on fourth and fifth, and Deeb called, but when Deeb picked up a pair of jacks on sixth he was the one who led out. Buchman called.
Both players checked on seventh, and Buchman opened up
for tens and sixes. Deeb had him beat though, tabling
for jacks and nines. Deeb bounced back to 62,000 chips, while Buchman dipped back below 200,000.