Event 40 - $1,500 Mixed Holdem
Giorni 2
Event 40 - $1,500 Mixed Holdem
Giorno 2 completo
dopo quasi due ore di gioco a dieci, Brent Roberts e' stato eliminato. Siamorimasti con soli nove giocatori che si ritroveranno a mezzanotte per il tavolo finale
dopo 15 minuti di No-Limit Hold'em, Brent Roberts e' andato all in pre flop. Dopo una lunga riflessione, Christoph Niesert ha deciso di vedere. Robert ha mostrato due donne e Christoph A-K. Al flop Christoph trova un asso e tutto il tavolo e' sembrato rilassarsi.
sinora in questo round abbiamo visto tre short-stacks andare all-in, nonostante questo nessuno ha visto il flop
si gioca a No-Limit Hold'em.
Livello: 17
Bui: 6,000/12,000
Ante: 0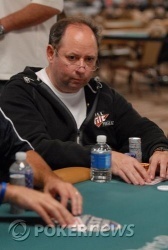 dopo innumerevoli mucks, rilanci preflop e carte peronali mascoste -abbiamo assistito al primo showdown!

Karlo Lopez rilancia preflop e viene visto da Michael Craig.

Flop:


Karlo punta e viene visto da Craig. Il turn porta un
e Karlopunta nuovamente. river
ed entrambi fanno cip. Craig volta
e Karlo spinge nel muck.

The pot was over 200,000 and Karlo is now the shortstack.
Si gioca a Limit Hold 'Em.
Livello: 16
Bui: 4,000/8,000
Ante: 0
10 minuti prima di riprendere il gioco