Event 48 - $2,000 No Limit Hold'em
Giorno 2 completo
Abbiamo ora i nove finalisti di questo $2,000 buy-in NL Holdem event. Come al solito i chip count e l'assegnazione dei posti verrà postata non appena sarà disponibile. Il final table inizierà alle 3 p.m. PDT (mezzanotte italiana). Collegatevi per seguire la diretta.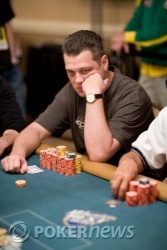 Ryan D'Angelo apre il piatto con un rilancio di 115,000 e Sergey Rybachenko va over the top puntando tutte le sue chip. D'Angelo chiama.
D'Angelo:
Rybachenko:
Il flop è
e da a Rybachenko un tris ma il
al turn e la
al river danno a D'Angelo una scala runner-runner che gli fa vincere il piatto ed eliminare Rybachenko al 10° posto per $46,386.
La galleria si è alzata in piedi in quanto si è appena giocato una grossa mano. State collegati!
Livello:

23
Bui:

20,000/40,000
Ante:

5,000
I giocatori sono tornati ai loro posti e il gioco è ripreso.
I giocatori sono ora in pausa per 20 minuti.
Marco Johnson rilancia a 85,000 da early position, e Alan Cutler controrilancia a 300.000 dal bottone.

Alexandre Gomes poi va all in per ulteriori 392,000.

Marco Johnson passa velocemente, mentre Alan Cutler va into the tank.

"Dai azzardiamo" dice Gomes.

Cutler passa, non volendo uscire in bolla, e scivola a 710,000. Gomes sale a 1,100,000.
Alexandre Gomes rilancia a 85,000 da middle position e viene chiamato da Robert Brewer e da Gabe Costner.
Fanno tutti check sia al flop con
che al turn con il
.
Al river esce il
, Brewer fa check e Costner punta 100,000. Gomes chiama e Brewer folda.
Costner mostra
e Costner mostra
per lo split.
Alan Cutler rilancia a 90,000 e Alexandre Gomes controrilancia a 300,000. Cutler chiama.
Sul flop
, Cutler va all in per 335,000 e Gomes passa.
Dopo la mano, Cutler è salito a circa 1,000,000 mentre Gomes è sceso a 650,000.