Flopped Two Pair Results in Lindgren's Elimination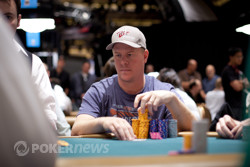 We caught the following hand on the turn with a board reading
. We do know that it was limped preflop and that Erick Lindgren checked the turn. His sole opponent, Jarred Solomon, then bet 32,000, Lindgren check-raised to 84,000, Solomon reraise, and pretty soon all the money was in the pot.
Lindgren:

Solomon:
As you can see, both players had flopped two pair with Solomon's being the best. Lindgren needed a four on the river to stay alive, but it came down the
to give Solomon a boat. Lindgren was eliminated late on Day 2.