Main Event
Giorno 1b completo
Livello 8 : 300-600, 75 ante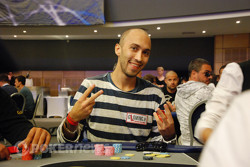 Day 1b of the World Poker Tour Malta Main Event has been completed after eight 60-minute levels were played out in the Casino at Portomaso. The player who ended the day as an overwhelming chip leader and leads everyone going into Tuesday's Day 2 is Jackson Genovesi.
Genovesi ended the day with a massive stack of 147,500 chips, over 50,000 more than his nearest rival Johan Guilbert on 96,100. Genovesi was propelled to the top of the counts midway through proceedings when he flopped the nuts in a massive pot that resulted in the PartyPoker Pro Kara Scott being eliminated. From that moment on Genovesi had to stack to make a real nuisance of himself and he certainly deserves the glory of being the overnight chip leader.
As expected a whole host of big names and familiar faces were among the 105 entries for today. Some of those who made it through with chip stacks intact include Giovanni Rizzo (95,800), Alessio Isaia (77,500), Erik Cajelais (74,800), Ilan Boujenah (62,100), Jason Mericer (56,600) and Fabrice Soulier (49,500) whilst the likes of Vanessa Selbst (29,500), Tony G (17,600), Andrew Badecker (15,700), Marvin Rettenmaier (13,375) and Anton Wigg (12,700) all made it through but will have a little more work to do when play restarts.
Play resumes at 13:00 CET and we are told the plan is to play between five and six 90-minute levels depending on how quickly the field thins. As soon as we know anything solid we will let you know.
Until play restarts, why not check out the sneak preview of the Tony G / Phil Hellmuth triathlon over on the PartyPoker Blog?
Livello 8 : 300-600, 75 ante
Tournament Director Christian Scalzi has said there will be five more hands played before we wrap up for tonight.
Livello 8 : 300-600, 75 ante
There has been a little controversy in the room after Abdelkader Benhalima was accused of soft playing by agreeing to check down the hand.
Enver Abdulraimov opened with a raise from late position and Jesper Hougaard three-bet all in for 11,300 on the button. The small blind folded but Benhalima called in the big blind before saying, "check, check, check" to the only active player in the hand. Eventually Abdulraimov called and low and behold they checked down the
board.
"All of you turn over your hands," instructed the tournament director and the active players obeyed.
Hougaard:

Abdulraimov:

Benhalima:
The players at the table could not believe Benhalima had checked his set and Abdulraimov had checked his top pair.
"That's collusion" said Jason Mercier who had walked over to see what all of the commotion was about.
After much discussion Benhalima was given a one-round penalty and nobody on his table is going to trust him for the rest of this tournament.
Livello 8 : 300-600, 75 ante
The action folded around to Vanessa Selbst in the small blind and she opted to just complete her small blind. Sampo Ryynanen was the big blind and he raised to 1,800. Selbst queried how much the raise was for before making the call.
The
flop saw Selbst check-call a 1,800 bet from her sole opponent. The
turn saw Selbst go on the attack and make it 2,800 to play, a bet that Ryynanen quickly called. The
river looked like it was going to see a bet from Selbst but she pulled back at the last second and checked. Ryynanen checked behind.
"I have seven-high," said Selbst.
An embarrassed looking Ryynanen flipped over
and Selbst showed the
. One thinks Ryynanen's image may now be tarnished somewhat.
Livello 8 : 300-600, 75 ante
Earlier today Tony G and Phil Hellmuth completed the first two of their three triathlon events. Here is a sneak preview, in pictures, of those events!
Livello 8 : 300-600, 75 ante
Riccard D'Errico was first to act in the hijack seat and he opened the betting with a raise. Two players folded, putting the action on Serkan Kurnar. He paused for a few moments before three-betting to 2,800 and it was up to D'Errico to act.
He sat completely motionless before springing into action with an all-in bet of 26,000 in total, which allowed the dealer to place the oversized comedy all-in button onto the felt. Kurnar looked baffled about what to do and after 90 seconds of looking baffled he mucked his hand.
Livello: 8
Bui: 300/600
Ante: 75
Livello 7 : 250-500, 50 ante
With registration well and truly closed the official payouts have been announced.
Total number of entrants stands at 169 so 21 places will be paid and paid as follows:
| Position | Prize (EUR) |
| --- | --- |
| 1 | €120,000 |
| 2 | €82,370 |
| 3 | €52,600 |
| 4 | €39,200 |
| 5 | €29,300 |
| 6 | €23,300 |
| 7 | €19,500 |
| 8 | €15,000 |
| 9 | €10,900 |
| 10-12 | €8,400 |
| 13-15 | €7,000 |
| 16-18 | €5,900 |
| 19-21 | €5,240 |
Here are some chip counts for you to drool over.
Giocatore
Chip
Avanzamento

Jackson Genovesi

124,000

14,000

Giovanni Rizzo

86,000

30,300

Vincent Douchain

82,000

Johan Guilbert

71,000

1,200

Jason Mercier

64,000

16,700

Alessio Isaia

57,000

7,400

Vanessa Selbst

56,600

Erik Cajelais

46,000

19,500

Fabrice Soulier

37,000

11,800

Steven van Zadelhoff

35,200

Jesper Hougaard

35,000

-16,500

Marvin Rettenmaier

32,000

32,000

Roger Hairabedian

28,600

Ilan Boujenah

26,000

2,000

Aubin Cazals

21,000

Gordon Huntly

19,000

4,825

Andrew Badecker

17,000

-24,000

Jason Wheeler

16,200

Anton Wigg

16,000

-400

Ronnie Bardah

15,000

7,700