Event #34: $1,000 No-Limit Hold'em
Giorni 3
Event #34: $1,000 No-Limit Hold'em
Giorno 3 completo
Livello 30 : 50,000/100,000, 10,000 ante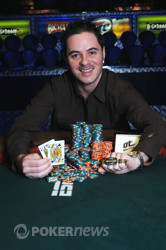 It was a back and forth battle for all parties involved here on the final day of Event #34. But the patience and skill of Mark Schmid was able to outlast all the drama, all the suck-outs, coolers and bad beats, but most importantly, all of the players. He entered the final table with over a 2 to 1 chip lead on the second highest stack. He had a clear strategy entering the final table which was to play small-ball poker and executed it in style. He was able to put pressure on his opponents by staying involved and having the ability to have any two cards at any time.
Early on it felt like fireworks were happening every other hand, except no one was busting. All in after all in, players kept sitting back down in their seat after having been on the brink of elimination. If you search back through the major hands that involved Schmid during these crazy hours, you'll find that despite losing many of the critical pots, his chip stack kept increasing. Three handed, Schmid was able to get his
in against the
of Andrew Rudnik for well over half of the chips in play. Despite flopping a Queen, the turn and river gave both players a wheel and the pot was split.
Ever focused, Schmid regrouped and found himself heads up with Justin Cohen facing a nearly 3 to 1 chip deficit. Cohen had been playing tight aggressive all day and found himself on both sides of the swingy final table. Cohen was even one card away from the title before Schmid snatched it away. The two players got it all in on a
board. Cohen held
and just needed to avoid a King, Nine or Six to beat the
of Schmid. But it wasn't to be. Schmid breathed new life with the
river. Later, Cohen was able to get Schmid short again. But another all in with Cohen drawing near dead gave Schmid a lead he refused to relinquish. On a
board, Schmid held
against the
of Cohen and he bricked out. Ironically, it would be these same two hands that would give Schmid his bracelet.
On the final hand, Schmid limped his button and Cohen checked his option. The flop came
and both players checked. The turn was another Seven, the
, and Cohen check-called Schmid's bet of 250,000. The river completed a four-flush with the
and Cohen checked for a third time. Schmid bet 450,000 and Cohen announced he was all in. Schmid told Cohen, "I don't see how I can fold," and made the call. Cohen knew immediately that he was beat, despite having
for trips. Schmid tabled
for a flush and a new WSOP champion was crowned.
For having beaten an incredible field of 3,144 players, Mark "pimpindonks" Schmid will take home $488,283 but most importantly his very first WSOP gold bracelet!
Mark Schmid limped and Justin Cohen checked his option from the big blind. Both players checked the
flop and Cohen checked the
on the turn as well. Schmid bet 250,000 and Cohen made the call as the players saw the
on the river. Cohen checked once more and Schmid bet 450,000. Cohen moved all in and after asking for a count, it was 2,375,000 total for Schmid to call. He said "I don't see how I can fold" and made the call. Cohen said "It's yours" and turned over
for trip sevens on the turn. Schmid showed
for the nut flush which was good to eliminate Cohen.
Ironically, both players held these exact same hands, Schmid
and Cohen
, when Schmid flopped top set to double through Cohen a mere 15 minutes before. In any case, we congratulate Justin Cohen on his impressive 2nd place finish.
Livello 30 : 50,000/100,000, 10,000 ante
Daniel Negreanu sweated the last $1,000 No-Limit Hold'em final table but we need him here today. After raising his button to 200,000 preflop, Justin Cohen continued for 800,000 on a
flop. Schmid folded and then proceeded to ask Cohen a question.
"Have you ever read Daniel Negreanu's book, Small-Ball Poker?" Schmid joked. While Negreanu does not have a book by that title, Schmid is referring to the school of thought made famous by Negreanu often referred to as "small-ball poker". The general idea behind it is that smaller, more controlled pots give you the opportunity to have a larger effective stack size and allows you to outplay your opponent, therefore you shouldn't overbet a pot but rather keep them small. Cohen didn't respond.
We have definitely seen two different style's of play all day from these worthy opponents. Schmid was easily the most involved player of the day but rarely found himself in a large pot. On the other end of the spectrum, it seemed as if every time Cohen entered the pot, he was there to get his money in and usually had the best of it. Only time will tell which player has been making the better decisions, but tonight we will only see another 20 minutes of it before we stop play and continue tomorrow.
Justin Cohen raised to 200,000 and Mark Schmid re-raised to 650,000. Cohen made the call and the flop came
. Schmid led out for 650,000 and Cohen raised all in. Schmid called as fast as humanly possible and the players turned over their hands.
Schmid:

Cohen:
Schmid had flopped top set which was the current nuts and would only need to avoid running jacks or running spades that didn't pair the board to double up and running straight straight cards to avoid a chop. The turn was the
which had Cohen drawing dead the river was the
. Schmid doubled up to take back the chip lead again and an overwhelming one at that.
Livello 30 : 50,000/100,000, 10,000 ante
From the button, Mark Schmid raised to 200,000 and Justin Cohen called.
The flop was
and Cohen led out for 500,000. Schmid thought for a bit and slid in the chips. The turn was the
and Cohen announced a bet of 900,000. Once again, Schmid made the call.
The river was the
and Cohen fired a final bet of 1.5 million. Schmid thought for a long time before finally deciding to call. Cohen sat back up when he heard this, leaned over the table and flung down
for two pair. This caused Schmid to flinch in anger and muck his cards.
This pot creates a large shift in momentum as well as the chip lead. Schmid is left with just what he started heads up play with, 2.4 million. Once again, Cohen has a 3 to 1 chip lead with an eye on that bracelet.
Livello: 30
Bui: 50,000/100,000
Ante: 10,000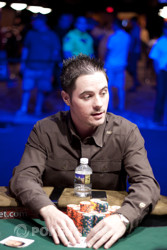 Mark Schmid raised to 160,000 and Justin Cohen made the call. On the
flop, Cohen led out for 500,000 and Schmid called. On the
turn, Cohen bet 1,000,000 and after some though, Schmid moved all in for 2,150,000. Cohen snap-called and the players showed their hands.
Cohen:

Schmid:
Cohen was behind on the flop with his lower pair but managed to hit two pair on the turn. As long as he could fade a king, nine or six on the river, all the chips, the bracelet and the first place money would be his. Before the river came, Cohen yelled "one time" as Schmid sat silently although his rail shouted a number of different things.
River:
And just like that, Schmid made kings up to survive, double through Cohen and take over the chip lead.
Livello 29 : 40,000/80,000, 10,000 ante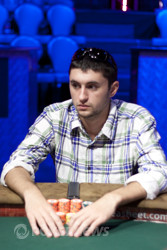 Earlier in the night, Andrew Rudnik doubled up when he hit a set of Jacks against the Pocket Aces of Justin Cohen. Well this time Cohen got revenge on Rudnik and the two Jacks that beat him.
From button, Cohen raised to 200,000 before Mark Schmid got out of the way. In the big blind, Rudnik raised to 800,000 and Cohen immediately announced he was all in. After about 30 seconds Rudnik made the call almost reluctantly. He once again held
and seemed disappointed to have to race for his tournament life against he
of Cohen.
The flop came down
which gave Cohen the lead in the hand. He would have to dodge a Jack or Queen on the river to be heads up for the bracelet. The turn bricked with the
as did the
river.
With that pot, Cohen will take an almost 3 to 1 chip lead into heads up play while Rudnik walks off as our 3rd Place finisher.