D'oh!
Livello 3 : 100/200, 0 ante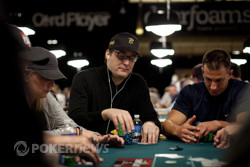 No sooner than we had ramped up the possibility of a Poker Brat vs durrrr showdown, Phil Hellmuth goes all busto on us. Just our luck!
As Cyriel super4real Dohman recalled to us, Hellmuth moved the last of his money into the middle before the flop with
, but Dohman had him outkicked with
, which somehow, to his amazement, held up. No doubt that that would have been most displeasing for Mr. Hellmuth.
Dohman is now up to 4,100 in chips.