Event #9: $1,500 Seven Card Stud
Giorni 2
Event #9: $1,500 Seven Card Stud
Giorno 2 completo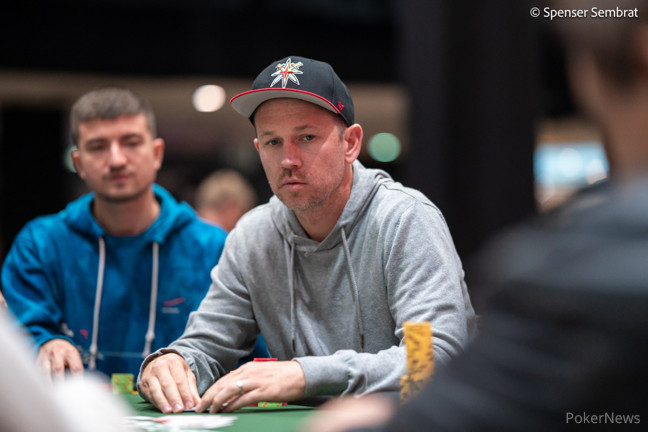 From a starting field of 360 players in Event #9: $1,500 Seven Card Stud, only 101 returned to Horseshoe and Paris Las Vegas today in the hopes of securing a piece of the $480,600 prize pool. After ten levels of play today, only nine players remained with hopes and dreams of the $110,800 and a 2023 World Series Of Poker gold bracelet.
Leading this field of all-stars is four-time WSOP bracelet winner John Monnette, who bags 1,985,000. Monnette began the day as one of the bigger stacks, and once the bubble burst, the mixed game pro continued to build up his chips and now sits within striking distance of two million.
An extremely decorated player, Monnette's mixed game prowess is well known throughout the poker world, with him even winning a $5,000 Seven Card Stud bracelet in 2012. A win here would add a fifth bracelet to his collection and be his second in Stud Hi.
Monnette's path will not be without obstacles. Right behind him in the counts is three-time WSOP bracelet winner Nick Schulman, who bagged 1,375,000. Schulman's bracelet wins were in 2-7 Lowball and Pot-Limit Omaha hi/lo, adding to his more than $15 million in lifetime poker earnings.
Schulman had also bagged a big stack at the end of Day 1 and put it to immediate use in the early goings of Day 2. He now looks to add a stud bracelet to his already decorated trophy cabinet.
A Stacked Final Table
Hojeong Lee (1,140,000) is looking for his second chance at this specific title, as his career-best score was a fourth-place finish in the 2021 iteration of this event.
A third place, two fourth places, and a sixth place occupy the WSOP stud-event final table resume of Tab Thiptinnakon (1,135,000). Scores dating back to the early 90s, Thiptinnakon brings a wealth of experience to this final group of nine.
DJ Buckley (880,000) is looking to add to his WSOP resume. Buckley finished 8th place in last year's $25k H.O.R.S.E. for $61,549 and he looks to find a better cash for his mixed game results with a win in this event.
Andrew Hasdal (770,000) notches his first WSOP score at this final table, but with a wealth of knowledge from the Chicago cash games, he looks to be a formidable force at the table.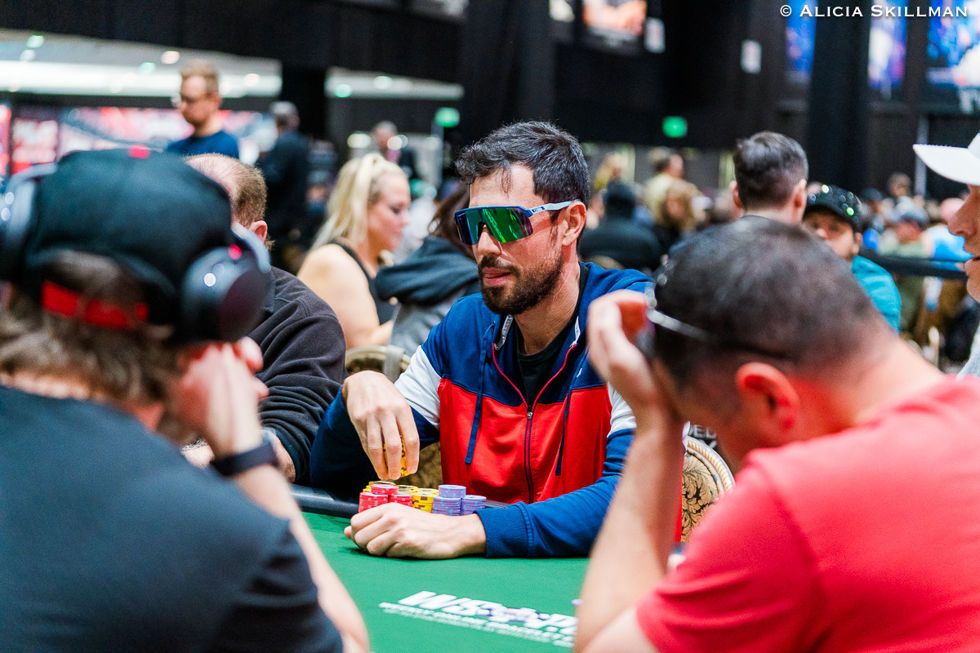 The five-time WSOP bracelet winner and always in the WSOP Player of the Year conversation pro Shaun Deeb (675,000) found his way to another WSOP final table. Deeb won this event in 2016 for his second WSOP bracelet and now, over seven years later, he has eyes to win the same event again, a feat that Deeb himself is quite familiar with.
Bruce Levitt (665,000) finds himself at his second WSOP final table and, with WSOP cashes dating back to the mid-90s, also looks to bring his wealth of experience to the final table. Rounding out the final nine is Tim Frazin with 430,000 in chips.
Final Table Seat Draw
| Seat | Player | Hometown | Chip Count | Big Bets |
| --- | --- | --- | --- | --- |
| 1 | Shaun Deeb | United States | 675,000 | 8 |
| 2 | Bruce Levitt | United States | 665,000 | 8 |
| 3 | Andrew Hasdal | United States | 770,000 | 9 |
| 4 | Tim Frazin | United States | 430,000 | 5 |
| 5 | Tab Thiptinnakon | United States | 1,135,000 | 14 |
| 6 | Hojeong Lee | United States | 1,140,000 | 14 |
| 7 | John Monnette | United States | 1,985,000 | 24 |
| 8 | Nick Schulman | United States | 1,375,000 | 17 |
| 9 | DJ Buckley | United States | 880,000 | 11 |
Day 2 Action
The kickoff to the day saw many well-known and accomplished pros falling by the wayside shy of the money.
WSOP bracelet winners Cyndy Violette, Frankie O'Dell, Barry Greenstein, Andrew "AJ" Kelsall, and Daniel Strelitz all saw their hopes of winning this WSOP bracelet disappear as the player count dropped.
The unfortunate bubble boy of the event was Darren Shebell, who got his final chips in with a pair of kings against Dzmitry Urbanovich's gutshot and overcard. Urbanovich hit his gin card on seventh to make a wheel, leaving Shebell with no outs.
Allen Kessler (34th-$3,051) found his 100th WSOP cash, which John Bunch (29th-$3,330) announced to the entire room. Many of the players applauded the "Chainsaw's" achievement.
Other players whose run came to a halt before the final table included Ari Engel (39th-$3,051), Ray Henson (30th-$3,330), John "Miami John" Cernuto (23rd-$3,736) and Daniel Weinman (21st-$3,736).
Chris Hundley (15th-$4,307) and Ben Yu (14th-$4,307) saw both their chances vanish in the same hand when Hasdal made a full house on the river to knock out both players. Two-time WSOP bracelet winner Tony Ma (13th-$5,098), Everett Carlton (12th-$5,098), and Oliver Vereschagin (11th-$6,190) found themselves as the next trio of players to bow out prior to the final.
Three-time bracelet winner Greg Mueller exited the tournament in tenth place, bringing an end to the night. Mueller had flirted with the chip lead a few times when there were two tables left and made a good habit of calling out the opponent's exact hands and folding correctly. But several big pots did not go his way and his chances grew slimmer until they vanished completely during an all-in on seventh street. Schulman made jacks-up to best Mueller's kings. Mueller's seventh-street card brought him no help and the Canadian hit the rail in tenth place for $6,190.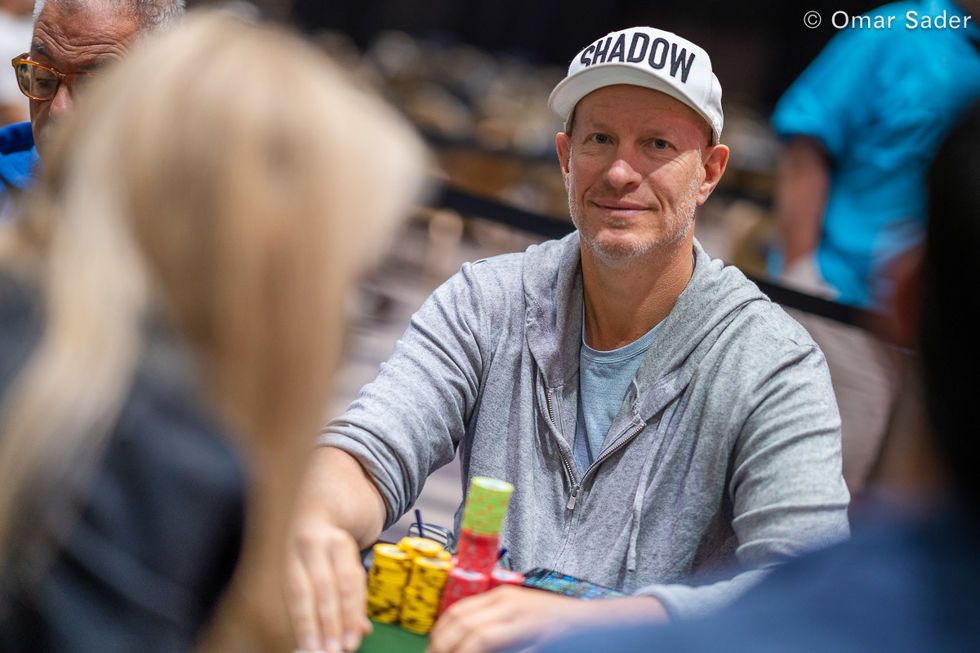 Players will return Sunday, June 4, at 1 p.m., coming back to Level 26. The ante and bring-in will be 10,000, with the limits at 40,000-80,000. Players will continue to play one-hour levels with a 15-minute break in between. After the table thins out a bit, play will be paused and the remaining final table will be streamed from the Horseshoe on PokerGO's YouTube channel (on security delay) beginning at 5 p.m. PDT.
Stay tuned to PokerNews for all updates on Event #9: $1,500 Seven Card Stud, as well as all updates from the World Series of Poker.
Giocatore
Chip
Avanzamento

John Monnette

1,985,000

585,000

Nick Schulman

1,375,000

375,000

Hojeong Lee

1,140,000

425,000

Tab Thiptinnakon

1,135,000

-795,000

DJ Buckley

880,000

60,000

Andrew Hasdal

770,000

-550,000

Shaun Deeb

675,000

-625,000

Bruce Levitt

665,000

225,000

Tim Frazin

430,000

-70,000
With level 25 now over, the remaining nine players are bagging and tagging for the day. They will return tomorrow at 1 p.m. and play down to a winner.
Stay tuned for a full recap and seat draw.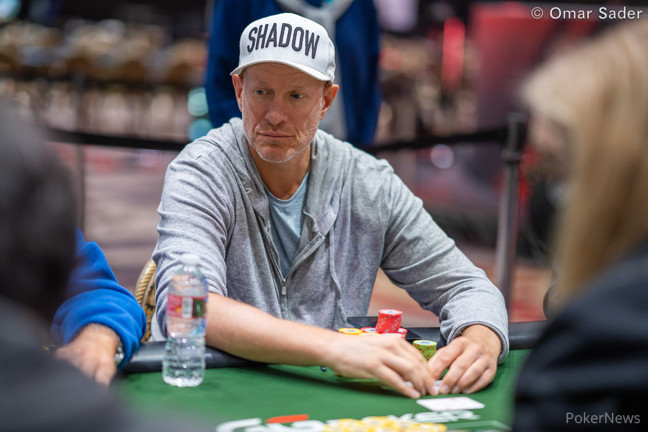 Nick Schulman: 8♥7♠/J♣J♠3♠A♣/8♦
Greg Mueller: K♣Q♥/7♦4♦K♥6♣/3♣
Nick Schulman completed and Greg Mueller raised. Schulman raised again to put Mueller all in and Mueller called.
Schulman's board left him with two pair on seventh street, which was enough to eliminate Mueller with his pair of kings.
Bruce Levitt: J♦8♣3♦/J♠Q♠K♦K♠
Greg Mueller: XxXx/5♠10♦A♥10♥/Xx
Bruce Levitt completed and was called by Greg Mueller.
Mueller called a bet from Levitt on fourth street and both players checked on fifth.
Levitt bet on sixth and seventh and Mueller called down.
Levitt tabled J♦8♣3♦ for kings and jacks. Mueller couldn't beat it and mucked — awarding the pot to Levitt and leaving himself short-stacked.
Action was picked up on fourth street between Tab Thiptinnakon and Greg Mueller.
Greg Mueller: XxXx/6♦8♥8♣K♥/Xx
Tab Thiptinnakon: XxXx/Q♦4♣4♦2♣/Xx
Thiptinnakon bet on fourth street which Mueller called.
Mueller check called every subsequent street and at the end Thiptinnakonturned over A♠A♥6♣ for aces up which was good for the pot.
A hand between Shaun Deeb and Andrew Hasdal was picked up on fourth street.
Andrew Hasdal: XxXx/A♥10♥3♠9♥/XxXx
Shaun Deeb: XxXx/9♣3♥6♠8♦/Xx
Hasdal bet on fourth and fifth which saw Deeb call both times.
On sixth Hasdal bet and Deeb raised which saw Hasdal call.
Hasdal checked on seventh to Deeb who bet and Hasdal called only for Deeb to turn over 10♠8♠7♣ for a straight. It was good and Deeb took down a sizable pot.
The following hand Buckley completed and Deeb raised which Buckley called.
Shaun Deeb: XxXx/6♠8♠Q♠3♣/Xx
DJ Buckley: XxXx/K♥J♠3♥9♦/Xx
Buckley checked every street with Deeb betting every one and Buckley calling until seventh.
On seventh Buckley checked once more and Deeb bet which Buckley responded too by raising. Deeb raised over it and Buckley called, promptime Deeb to show K♠Q♠6♣ for a flush which was good as Buckley mucked his hand.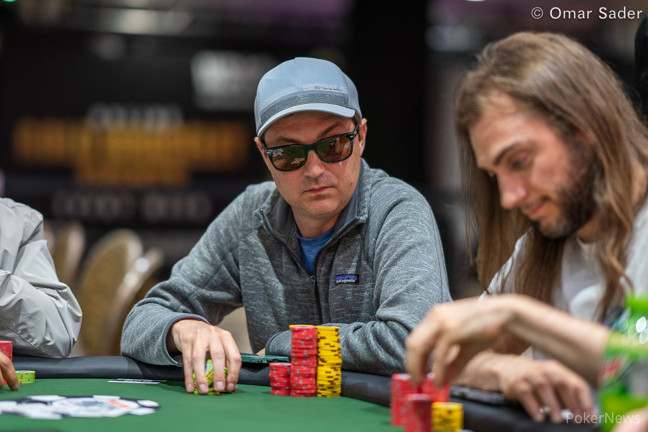 Action was picked up with cards on their backs on sixth street between Tab Thiptinnakon and Oliver Vereschagin with Vereschagin all in and at risk.
Oliver Vereschagin: Q♥Q♣/9♦6♥7♣K♥
Tab Thiptinnakon: K♣4♦7♠J♠4♣4♠
Vereschagin was up against three fours and needed one of the two remaining queens in the deck to win the pot and survive. On the end he flopped over a 3♠ which was no good and Thiptinnakon took down the pot when her turned over a meaningless 6♣.
The players are now one away from a final table.
Livello: 25
Ante: 10,000
Bring-In: 10,000
Completion: 30,000
Limits: 30,000-60,000