Poker Social: Famiglia Mercier, che Nostalgia del Poker! Un Altro Traguardo per Bonomo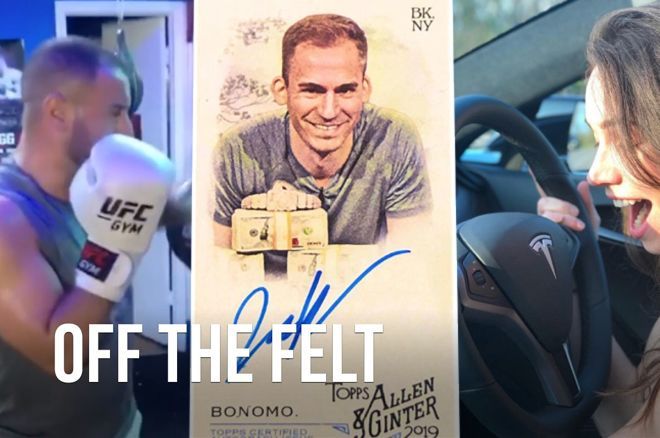 Questa settimana, per Poker Social, abbiamo un campione dei migliori post sul poker, incluso un segnale che la famiglia Mercier ha nostalgia del gioco, e un bel traguardo per Justin Bonomo.
Aggiornamenti Twitter
I migliori tweet della settimana sono di Natasha Mercier, che ha fornito delle video prove di come si possa andare in astinenza da poker.
E un altro traguardo nella vita di Justin Bonomo, il giocatore più vincente nella storia del poker:
Signing my first ever trading card for @Topps today! Look for the Allen & Ginter boxes and packs out this summer. https://t.co/09ZB2Z98D9

— Bonologic (@JustinBonomo)
Il reporter di PokerNews, Milko "DegenOnTour" van Winden, prova a vloggare dal Lex Live Namur:
Hi friends! It's becoming a regular thing that I forget to film loads, but I tried and that's what counts, right?!… https://t.co/MhdKVsc7VI

— Milko (@DegenOnTour)
SHOTTINI! Fanno sempre bene al gioco...
Matt Clark dice la sua sui candidati ai Global Poker Awards:
The fact that Shaun Deeb didn't even make the ~30-nomination shortlist for Tournament Performance for making two WS… https://t.co/bal9dQlhdr

— Matt Clark (@MattClarkPoker)
Un'incredibile donazione su Twitch, a uno streamer che se la merita:
I got a $940 donation at the same time that we're ALL IN heads up a $500 Spin and Go.. ABSOLUTE CHAOS @pokerstars https://t.co/tIO7IQEcAo

— Arlie Shaban (@ArlieShaban)
Kayla "winopoker" Voogd e una lista utile per i giocatori di poker:
If you have been playing poker for over 2-3 years and want to track how you're doing, you should at minimum have:… https://t.co/B7x6P1R8I6

— Kayla Voogd (@winopoker)
Comprereste questa maglietta?
E basta:
The next time I blast off my entire stack I'm going to quietly eat this in 2 bites, throw the wrapper in the middle… https://t.co/NmhtvDdwzE

— Matt Shepsky (@shep2k)
Niente male:
Aggiornamenti Instagram
Bella vita per i membri del Thirst Lounge:
Brian Hastings e gli ultimi giorni di luna di miele:
Michael Mizrachi si mette in forma:
Steven van Zadelhoff batte i suoi stessi record:
Belle notizie:
Fatima Moreira de Melo in posa:
Liv Boeree e la sua macchina nuova:
Sam Grafton visita la 'O3 Arena':