Livello 15 : 2,000-4,000, 500 ante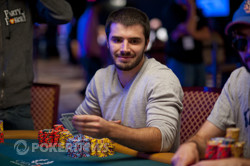 Ed è tutto anche per oggi.
Dopo altri 5 livelli di poker action, termina il day 3 del Main Event delle WSOP comandato a fine giornata da Dave D'Alesandro che ha chiuso la sua fatica a quota 1,1 milioni in chip.
D'Alesandro guida una truppa di circa 720 giocatori left, una sessantina circa allo scoppio della bolla. Tutti loro sperano di arrivare dentro i 666 giocatori pagati per almeno 19.227 $, primo scalino da raggiungere a tutti i costi per piazzare la bandierina.
Il day 3 iniziava con 1,738 players sopravvissuti alle giornate precedenti ma durante la giornata, tra loro perdevamo campioni del calibro di Abe Mosseri, John Racener, Chris Tryba, Vicky Coren, Barry Greenstein, Bryn Kenney, Karina Jett, Eugene Katchalov, Faraz Jaka, Nick Schulman, Brian Hastings e il WSOP Player of the Year del 2011, Ben Lamb.
Non giocheranno il day 4 nemmeno i campioni del mondo Dan Harrington (1995), Robert Varkonyi (2002), Jerry Yang (2006), Peter Eastgate (2009) e il detentore del titolo, Pius Heinz.
Dovrebbero essere invece 5 gli italiani che passano al day 4 che comincia stanotte alle 21.00 ora italiana:
Alessio Isaia
Si chiude il day3 a 500k e domani si sbarca al day 4 consapevoli del fatto che rimangono soltanto 740 players da battere :)
Salvatore Bonavena

Si chiude il day 3 a197000 dopo un bluff in cui rischio i massimi !!! Strafelice x come ho giocato , domani e' un altro giorno cari miei , e forse potrebbe girarci anche la fortuna .. Un abbraccio a tt , buon giorno a voi , io vado a nanna
Crisbus Cristiano Guerra
Finito il day3 a 124000.... poteva andare decisamente meglio ma anche peggio!!! Si va al day 4 e mancheranno circa 70 persone ai premi a bui 2500/5000. sarà dura ma ci si prova!!!
Max Mosele
Chiuso day3 con 113.000 ...una sofferenza per 10 ore ...non siamo ancora a premi e non so quanti mancano. Ma da come si era messa la giornata diciamo che son soddisfatto. Una nota positiva è stato aver il vs. continuo tifo ...siete stati fantastici e mi avete anche tenuto compagnia!! Grazie a tutti ...a domani per il day4 ...si sa mai che faccio un raddoppio e vado in average ;)

Il nostro Marco Bognanni
MarcoBognanni Marco Bognanni Buste chiuse anche per il day3, avg 264k, 747 left, Magicbox ha 350k! 13 Luglio 2012
Stefano Fiore
Giornata Finita: obiettivo raggiunto si imbustano 82k sono pochi ma che dobbiamo fare abbiamo questi! Siamo a 100 dal premio...