Event #93: $10,000 Short Deck Championship
Giorni 2
Event #93: $10,000 Short Deck Championship
Giorno 2 completo
Livello 16 : Blinds 0/0, 6,000 ante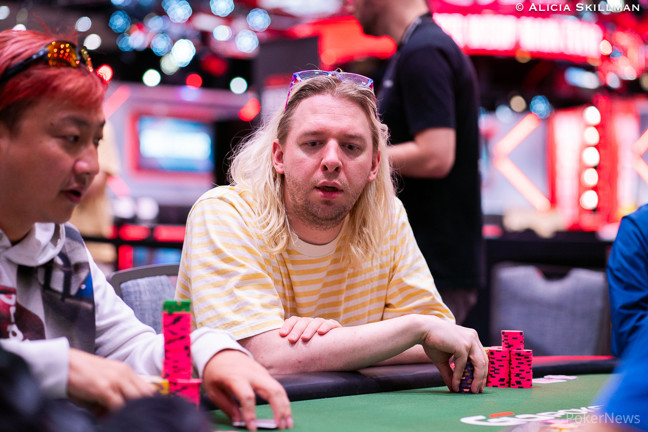 After close to nine hours of play on Day 2 of Event #93: $10,000 Short Deck Championship at the 2023 World Series of Poker, only five players remain in the hunt for WSOP gold.
Once the dust settled, it was Martin Nielsen who claimed the chip lead with a stack of 2,007,000. Nielsen, who mentioned he is a software engineer, has only $31,000 in tournament winnings and has already well surpassed his career-best score of $13,166 from back in 2022.
Eric Wasserson bagged a healthy stack of 1,705,000 and will look to capture his first bracelet with a win here. Most recently, Wasserson finished seventh in Event #89: $1,000 Flip & GO for $21,880 only a few days ago.
Final Day Seat Assignments
| Seat | Player | Country | Chip Count | Antes |
| --- | --- | --- | --- | --- |
| 1 | Eric Wasserson | United States | 1,705,000 | 284 |
| 2 | Ivan Ermin | Russia | 743,000 | 124 |
| 3 | Hong Wei Yu | United States | 1,596,000 | 266 |
| 4 | Martin Nielsen | Faroe Islands | 2,007,000 | 335 |
| 5 | John Juanda | Indonesia | 332,000 | 55 |
Day 2 Action
A total of 31 players bagged on Day 1, and with late registration open until the start of Day 2, another 22 players jumped in the short-deck action to bring the total to 106 entries. The prize pool collected $895,300 with the winner taking home $270,160 and the prestigious gold bracelet.
Many big-name pros max late registered, but some who couldn't find any run good included high-stakes regulars Seth Davies, David Peters, Jeremy Ausmus, and 17-time bracelet winner Phil Hellmuth.
The 2013 WSOP Main Event champ Ryan Riess joined on Day 2 and made it to the final 17 players, but after nursing a short-stack for a while, was eliminated as the unfortunate "bubble boy".
Once in the money, the action was fast and furious for the next level of play. Some who were fortunate enough to find a cash included last year's champion Shota Nakanishi (14th - $19,636), Mikita Badziakouski (13th - $19,636), and Sam Soverel (8th - $29,028), who finished on the final table bubble.
The official seven-handed final table kicked off with John Juanda in the lead, but that didn't last long when he got it all in with a set of nines against the set of tens for Wasserson to score the massive double up.
Chris Brewer built up an impressive stack throughout the day and had his sights set on another bracelet and Player of The Year, however, his day ended when he ran his kings into the ace-king for Nielsen to make quads on board and eliminate Brewer in seventh place.
Shortly after, Nobuaki Sasaki got his remaining chips in the middle on a king-high board with king-queen, but was up against the flopped set of jacks for Wasserson. The board didn't improve Nobuaki and he was sent to the payout desk in sixth place.
The final five players will return to the Horseshoe blue section tomorrow, July 18th at 1 p.m. and will play until a winner is crowned. The antes will resume at 6,000 with 23:27 left on the current level and continue to be 60 minutes in length.
As always, be sure to stick with PokerNews for all your up-to-date coverage of the remainder of this event and the rest of the 2023 WSOP at Horseshoe and Paris Las Vegas.
Livello 16 : Blinds 0/0, 6,000 ante
The tournament was scheduled to stop at five players remaining, and with the elimination of Nobuaki Sasaki, the remaining players have begun the bagging process for the night.
They will return tomorrow at 1 p.m. and will play down to a winner.
Giocatore
Chip
Avanzamento

Martin Nielsen (FI)

2,007,000

-323,000

Eric Wasserson

1,705,000

Hong Wei Yu

1,596,000

236,000

Ivan Ermin

743,000

283,000

John Juanda

332,000

60,000
Livello 16 : Blinds 0/0, 6,000 ante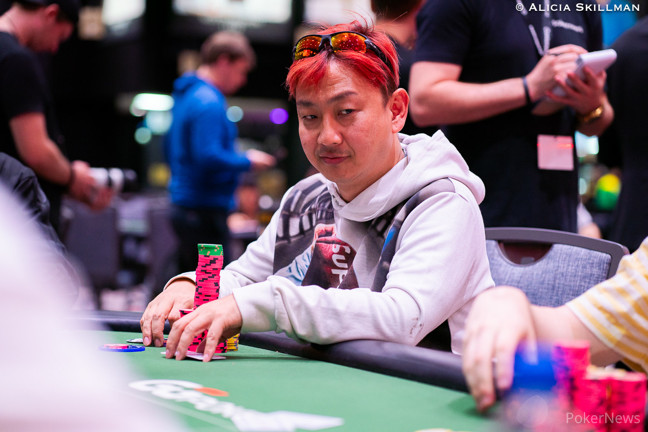 Martin Nielsen opened to 70,000 from the cutoff and was called by Nobuaki Sasaki under-the-gun and Eric Wasserson in middle position.
The flop came out J♥K♠8♦ and Sasaki lead-jammed for 237,000. After the count was established, Wasserson made the call and Nielsen folded after some thought.
"Good fold," Wasserson said to Nielsen as he tabled J♣J♦ for bottom set while Sasaki flipped over K♦Q♠ for top pair.
The turn 7♣ left Sasaki drawing dead and the Q♦ completed the board for Wasserson to scoop the pot while Sasaki was eliminated in sixth place.
Livello 16 : Blinds 0/0, 6,000 ante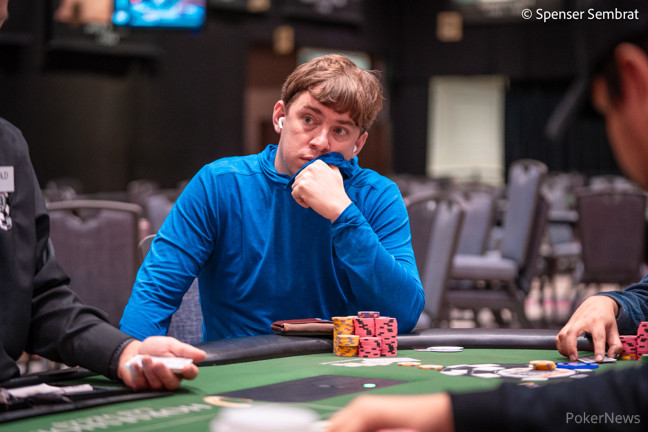 Chris Brewer limped in from under the gun and two other players limped behind before Martin Nielsen raised to 56,000 in the cutoff. Brewer announced all in for 677,000 and it folded back to Nielsen who made the call with a bigger stack.
Chris Brewer: K♥K♣
Martin Nielsen: A♠K♦
The flop fanned out 6♦6♠6♣ to give Brewer a full house, but he would need to dodge the ace or six for Nielsen. The turn fell like a ton of bricks when the 6♥ rolled off, and the K♠ river added insult to injury as the quads sixes on board with an ace-kicker won the pot for Nielsen to send Brewer out in seventh place.
Giocatore
Chip
Avanzamento

Martin Nielsen (FI)

2,330,000

730,000

Chris Brewer

Eliminato
Livello 16 : Blinds 0/0, 6,000 ante
Nobuaki Sasaki opened to 50,000 from the button and found one call from Martin Nielsen. The two went to a flop of 9♥9♣10♣ and Nielsen then led for 45,000 and Sasaki called to see the 8♣ turn.
Both players decided to slow down and they went check-check to the river 10♦.
This time Nielsen checked and Sasaki bet 105,000 and Nielsen went into the tank. After around 30 seconds, Nielsen made the call and Sasaki flipped over K♣Q♦ to play the board with king-high but then Nielsen rolled over Q♥Q♠ for a bigger two pair to take down the pot.
Livello: 16
Bui: 0/0
Ante: 6,000
Livello 15 : Blinds 0/0, 5,000 ante
John Juanda moved all in for 121,000 in early position and Chris Brewer made the call next to act. The rest of the table got out of the way and the cards were on their backs.
John Juanda: A♦J♥
Chris Brewer: K♦Q♥
It was essentially a coin-flip preflop, but when the board ran out 9♥8♦7♣9♦8♠, it was the ace-jack high for Juanda that held to score a full double up off Brewer.
Giocatore
Chip
Avanzamento

Chris Brewer

570,000

-780,000

John Juanda

272,000

121,000
Livello 15 : Blinds 0/0, 5,000 ante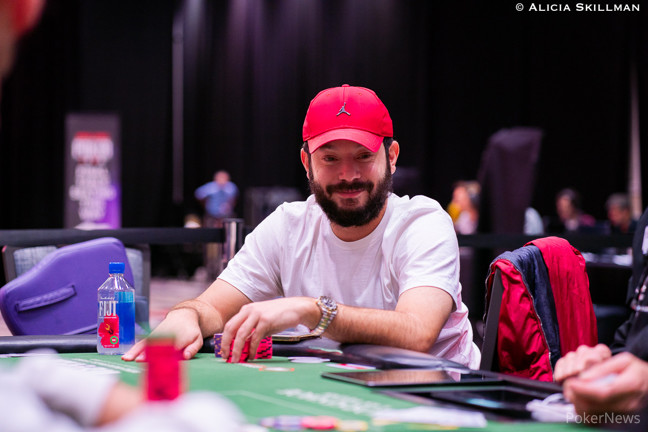 On a three-way flop of 10♦7♥9♣, Chris Brewer led out for 125,000 and Eric Wasserson made the call, but hen John Juanda moved all in, covering both players.
Brewer quickly got out of the way but Wasserson went into the tank.
"Top-set is a favorite against a straight right?" he asked himself aloud.
"Yeah, I mean, I really don't know how to play this game, but I guess I call," he announced as he set out a stack of chips to put himself at risk.
Eric Wasserson: 10♣10♠
John Juanda: 9♥9♦
Once Wasserman saw what he was up against, he apologized profusely for the potential slow-roll and the dealer set out the 8♠ on the turn.
"Oh, not like this," Wasserman said, as it gave both players a straight draw, but the river came the A♠ and Wasserman scooped the massive pot for a big double-up while Juanda was left with 150,000.
Livello 15 : Blinds 0/0, 5,000 ante
Nobuiaki Sasaki opened to 75000 and action folded to Ivan Ermin who then moved all in for around 220,000. When it got back around to Sasaki he quickly made the call to put Ermin at risk.
Ivan Ermin: K♠K♥
Nobuaki Sasaki: J♣10♣
The flop of 7♣9♣A♠ kept Ermin in the lead, but Sasaki had straight and flush outs. The turn J♦ further improved him to two-pair or trips outs.
"Too many outs," Eric Wasserson stated as the 6♥ bricked the river for Ermin to survive with a double-up.
"Like I said, too many outs."