Annunciato il Programma delle World Series of Poker 2009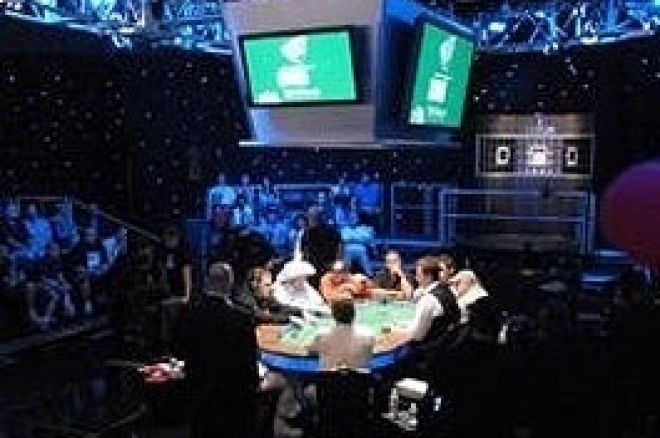 La Harrah's ha annunciato il programma ufficiale delle World Series of Poker 2009, la quarantesima edizione della più grande serie di tornei di poker al mondo. Le WSOP saranno ospitate ancora una volta al Rio All-Suite Hotel e Casinò di Las Vegas e si giocheranno dal 26 maggio al 15 luglio 2009. Al contrario di quanto insinuato da voci di corridoio che anticipavano un'edizione ridotta, le WSOP di quest'anno prevedo il programma più ampio della storia di questo evento. Saranno ben 57 i tornei che assegneranno un bracciale (due in più rispetto al 2008) e molti altri eventi speciali e un'ininterrotta serie di satelliti faranno da contorno - oltre naturalmente ai ricchi cash games che da sempre accompagnano le Series.
Il programma completo del 2009 prevede nuovamente il tanto discusso posticipo del tavolo finale con quelli che saranno poi i "November Nine" destinati ad attendere fino al 7 di novembre per potersi giocare il titolo. Sarà ancora una volta l'ESPN a trasmettere in esclusiva il tavolo finale.
Il programma delle WSOP di quest'anno introduce alcuni nuovi concetti oltre a riproporre la maggior parte degli eventi più popolari o comunque tradizionali delle World Series of Poker. Tra le novità il $1,000 no-limit hold'em "Stimulus Special" che si giocherà nel corso della prima settimana e precisamente il 30-31 maggio. I responsabili delle WSOP hanno ideato questo torneo con l'intenzione di renderlo il più grande della storia, in termini di partecipazioni, dopo il Main Event e per migliorare il record fatto segnare nel 2008. Il Montepremi di questo evento dovrebbe pertanto sfiorare i $5 milioni.
Oltre allo stimulus special, una seconda novità è prevista per l'apertura delle Series: il $40'000 NLHE event progettato per celebrare la quarantesima edizione. Questo torneo inizierà il 28 Maggio in modo da assicurare alle WSOP un eccezionale scatto dai blocchi di partenza.
Saranno comunque riproposti gli eventi più caratteristici della serie anche nell'edizione 2009 ed i più rappresentativi tra questi sono:
• Il $50,000 H.O.R.S.E. World Championship – che fa la sua terza apparizione ed offre il trofeo in memoria di Chip Reese;
• Dieci differenti $10,000 "World Championship" (inclusol il no-limit hold'em Main Event) in altrettante varianti di poker;
• Sette popolari tornei $1,500 no-limit hold'em – distribuiti omogeneamente nel corso delle series e generalmente in grado di generare i fields più numerosi;
• Il terzo torneo annuale "Ante Up for Africa" che si occupa della raccolta di fondi da impiegare per arginare la crisi umanitaria del Darfur. A questo torneo da $5,000 partecipano tradizionalmente dozzine di celebrità e professionisti del poker. L'evento è in programma per il 2 luglio 2009;
• Gli eventi Ladies e Seniors – due tornei ormai classici per le WSOP sono in calendario anche per il 2009 con buy-in da $1,000.
Il Main Event 2009 si giocherà da 3 al 15 luglio ed includerà quattro Day 1, due Day 2 ed un giorno di pausa a metà di questa maratona di due settimane.
Questo il programma completo delle WSOP 2009 (con data, ora, evento, titolo e Buy-In)
5/26 9 AM Apertura iscrizioni, Inizio satelliti
5/27 12 PM #1 Casino Employees NLHE (2-day event) $500
5/28 12 PM #2 40th Annual NLHE (4-day event) $40,000
5/29 12 PM #3 Omaha Hi-Low Split-8 or Better (3-day event) $1,500
5/30 12 PM #4A NLHE (4-day event) $1,000
5/31 12 PM #4B NLHE (4-day event) $1,000
6/1 12 PM #5 PLO (3-day event) $1,500
6/1 5 PM #6 *World Championship Seven Card Stud (3-day event) $10,000
6/2 12 PM #7 NLHE (3-day event) $1,500
6/2 5 PM #8 2-7 Draw Lowball (No-Limit) (3-day event) $2,500
6/3 12 PM #9 NLHE Six-handed (3-day event) $1,500
6/3 5 PM #10 PLHE/PLO (3-day event) $2,500
6/4 12 PM #11 NLHE (3-day event) $2,000
6/4 5 PM #12 *World Championship Mixed Event (3-day event) $10,000
LHE, Omaha Hi-Low Split-8 or Better, Seven Card Razz , Seven Card Stud, Seven Card Stud Hi-Low Split-8 or Better, NLHE, PLO, 2-7 Triple Draw Lowball
6/5 12 PM #13 NLHE (3-day event) $2,500
6/5 5 PM #14 LHE Six-handed (3-day event) $2,500
6/6 #12 PM #15 NLHE (3-day event) $5,000
6/6 #5 PM #16 Seven Card Stud (3-day event) $1,500
6/7 12 PM #17 *Ladies NLHE World Championship (3-day event) $1,000
6/7 5 PM #18 *World Championship Omaha Hi-Low Split-8 or Better (3-day event) $10,000
6/8 12 PM #19 NLHE Six Handed (3-day event) $2,500
6/9 12 PM #20 PLHE (3-day event) $1,500
6/9 5 PM #21 H.O.R.S.E. (3-day event) $3,000
6/10 12 PM #22 NLHE Shootout (1,000 player max) (3-day event) $1,500
6/10 5 PM #23 *World Championship 2-7 Draw Lowball (No-limit) (3-day event) $10,000
6/11 12 PM #24 NLHE (3-day event) $1,500
6/11 5 PM #25 Omaha/Seven Card Stud Hi-Low-8 or Better (3-day event) $2,500
6/12 12 PM #26 LHE (3-day event) $1,500
6/12 5 PM #27 PLO Hi-low Split-8 or Better (3-day event) $5,000
6/13 12 PM #28 NLHE (3-day event) $1,500
6/13 5 PM #29 *World Championship Heads-Up NLHE (256-player max) (3-day event) $10,000
6/14 12 PM #30 PLO (3-day event) $2,500
6/14 5 PM #31 H.O.R.S.E. (3-day event) $1,500
6/15 12 PM #32 NLHE (3-day event) $2,000
6/15 5 PM #33 *World Championship LHE (3-day event) $10,000
6/16 12 PM #34 NLHE (3-day event) $1,500
6/17 12 PM #35 PLO (3-day event) $5,000
6/18 12 PM #36 NLHE (3-day event) $2,000
6/18 5 PM 37 *World Championship Seven Card Stud Hi-Low Split-8 or Better (3-day event) $10,000
6/19 12 PM 38 LHE (3-day event) $2,000
6/20 12 PM 39 NLHE (3-day event) $1,500
6/20 5 PM 40 *World Championship PLO (3-day event) $10,000
6/21 12 PM 41 NLHE Shootout (1,000 player max) (3-day event) $5,000
6/21 5 PM 42 Mixed Event (3-day event) $2,500
LHE, Omaha Hi-Low Split-8 or Better, Seven Card Razz , Seven Card Stud, Seven Card Stud Hi-Low Split-8 or Better, NLHE, PLO, 2-7 Triple Draw Lowball
6/22 12 PM 43 *Seniors NLHE World Championship (3-day event) $1,000
6/22 5 PM 44 Seven Card Razz (3-day event) $2,500
6/23 12 PM 45 *World Championship PLHE (3-day event) $10,000
6/23 5 PM 46 Omaha Hi-Low Split-8 or Better (3-day event) $2,500
6/24 12 PM 47 Mixed Hold'em (Limit/No-Limit) (3-day event) $2,500
6/25 12 PM 48 PLO Hi-Low Split-8 or Better (3-day event) $1,500
6/26 12 PM 49 *World Championship H.O.R.S.E. (5-day event) $50,000
LHE, Omaha Hi-Low Split-8 or Better, Seven Card Razz, Seven Card Stud, Seven Card Stud Hi-Low Split-8 or Better
6/26 5 PM 50 LHE Shootout (1,000 player max) (3-day event) $1,500
6/27 12 PM 51 NLHE (3-day event) $1,500
6/28 12 PM 52 Triple Chance NLHE (3-day event) $3,000
6/28 5 PM 53 Seven Card Stud Hi-Low 8-or-Better (3-day event) $1,500
6/29 12 PM 54 NLHE (3-day event) $1,500
6/29 5 PM 55 2-7 Triple Draw Lowball (Limit) (3-day event) $2,500
6/30 12 PM 56 NLHE / Six-handed (3-day event) $5,000
7/1 Satellite Day
7/2 Satellite Day
7/2 2 PM Ante Up For Africa Charity Event (NLHE) (1-day event) $5,000
Main Event:
7/3 12 PM 57A *World Championship NLHE Day 1A $10,000
7/4 12 PM 57B Day 1B
7/5 12 PM 57C Day 1C
7/6 12 PM 57D Day 1D
7/7 12 PM Day 2A (1A + 1B)
7/8 12 PM Day 2B (1C + 1D)
7/9 Pausa
7/9 1 PM Media Event
7/10 12 PM Day 3
7/11 12 PM Day 4
7/12 12 PM Day 5
7/13 12 PM Day 6
7/14 12 PM Day 7 (Si gioca fino agli ultimi 27)
7/15 12 PM Day 8 (Si gioca fino agli ultimi 9)
11/7-10 TBD Final Table
-- Contrassegna eventi validi per il titolo mondiale
NLHE – No-Limit Hold'em
LHE – Limit Hold'em
PLHE – Pot-Limit Hold'em
PLO – Pot-Limit Omaha